St. Catrick's Day has a Friday deadline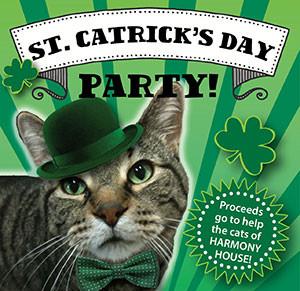 All those kitties who are saved regularly from extinction by Harmony House, 2914 N. Elston Ave., are extending an invitation to the St. Catrick's Day Party March 13 at Revolution Brewing, 2323 N Milwaukee Ave., but there is a catch to a $30 cost per ticket!
Payment must be paid online or in person at Harmony House by 3 p.m. on Fri., Mar. 11, to be welcomed in to the Sun., Mar. 13, event from 6 to 8 p.m. at the special price. Those buying tickets will be welcomed but charged $35.
The Event
Those attending the St. Catrick's Day Party will be able to have five beers brewed on-site, soda and appetizers. Then at 7:30 p.m. there will be a raffle drawing.
Attendees must be 21 years or older.
Harmony House residents and all those volunteers who care for them say, "It will be a purrrfectly wonderful time and you are the cats' meow!"
Related:
Crime Stats By District
Columnists