Charlie, one of Remix Chicago's surprises in Logan Square
The Remix, Rethink Recycle event in Logan Square on Milwaukee Ave.  Aug. 31 and Sept. 1 was filled with surprises…among them Charlie, the camel.
He is a gentle giant who lives in Barrington with a few other camels, but he travels all over the country.
He was quite the gentleman and very patient with the children who rode on him. 
His person, Mike Todd, explained that Charlie and his son are great friends. "They even play tag with each other. Some camels can be nasty but Charlie is great."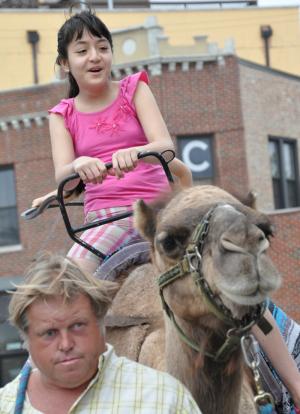 Though Charlie drinks about 30 gallons of water each day, he does not eat all that much. "He only eats about three to four pounds of hay, grass and grains a day plus some leaves," explained Todd.  "Camels chew their cud like a cow and his hump is fat not water."  At 7 feet high at his hump, he is a nine-year-old dromedary from Oklahoma. 
His soft hair apparently insulates him from temperature extremes of hot and cold, according to Todd. He has been in 112 degrees in Texas and below zero in Illinois. "His cloven-hoofed feet are more like a dog's paw on the bottom and their toe nails merely fall off so you don't have to care for them." 
Charlie and Todd only have 12 weeks off a year, but they seem to enjoy their adventures together.
Related:
Crime Stats By District
Columnists