FireCat Gallery: Daniel Bruttig
A series of series, Daniel Bruttig's Singles, Duets and Sets at Firecat Projects, 2124 N. Damen, is hanging through Feb. 20. 
"He actively works to dispel the notion of a singular artistic mode of production, rather proliferating in several different styles and mediums including playfully drawn portraits, bound canvases and mixed media paintings," is how his work has been described. 
Bruttig, who likes being outdoors, finds that his winter work tends to be drawings.
"I have always doodled, creating creatures, monsters and themes that tend toward dark humor," he says.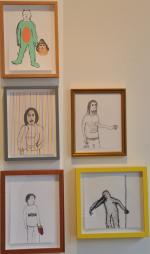 Admiring the straightness of his many stripped pieces, Bruttig explained that his interest and fascination with materials and fibers led him to plastic landyards. With a great range of color, he is able to create stripped pieces that are not only straight but also have relief from a flat surface. 
His current series is being partially created with the use of a glue gun, doing "hot glue manipulations." "I then go back in with a blow torch to further manipulate the material," he explained.
Educated in art, Bruttig received his undergraduate from University of Illinois in Chicago in 2001 and his Masters of Fine Art from Northwestern in 2010. Spending as much time as possible producing his own art, he works for a gallery as a preparator, caring for other people's work as well. 
Bruttig's work has been featured in solo and group exhibitions throughout Chicago and North America including The Hyde Park art Center, Chicago Cultural Center, Western Exhibitions, La Luz De Jesus Gallery, Los Angeles, SCOPE Miami and The DepArtment, Toronto, ON. And has been acquired by Twitter Inc, NY, NY, Thompson Hotel Chicago and other private collections. 
Firecat Projects was created by Tony Fitzpatrick opened in 2010 and is run by Stan Klein.
Related:
Crime Stats By District
Columnists