Winter coming to Art on theMART November 17
The extra-ordinary permanent digital art projection that uses the south facing wall of theMART as its canvas, will finish out its inaugural year beginning on Nov. 17 and ending on Dec. 31, with six Winter Holiday images that move and change, according to an announcement today.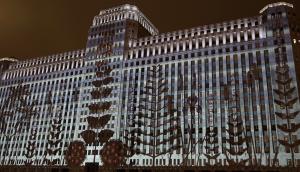 Visible from Wacker Dr. and along the Chicago Riverwalk, the show plays for two hours nightly, 7 to 9 p.m., five days a week (Wednesday through Sunday), for ten months of the year from March through December. 
This new collection is from the same Obscura Digital** team of artists that produced the body of work that debuted on Sept. 29.  Artists Diana Thater, Zheng Chongbin, Jason Salavon and Jan Tichy utilize the entire 2.5 acre surface of the building formerly known as The Merchandise Mart, opened in 1930. 
One image evolves then melts away into another amazing composition.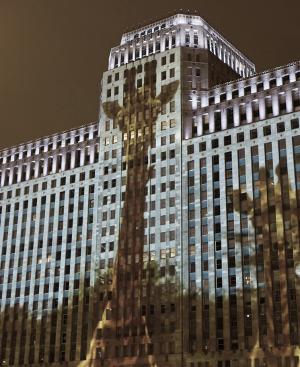 "We invite all to celebrate the holiday season of light by viewing the brilliant digital works of art projected onto the river facade of theMART at over a million lumens," said Art on theMART Executive Director Cynthia Noble. "The new winter images will create visual delight and demonstrate the next level of Art on theMART's spectacular projection system capabilities." 
In a 30-year agreement, the City of Chicago and theMART will work in partnership to manage and curate the projected artwork, funded by Vornado Realty Trust, owner of theMART, 
Art on theMART marks the first time a projection of its size and scope will be completely dedicated to digital art with no branding, sponsorship credits or messaging. 
**A creative studio, Obscura Digital, founded in San Francisco in 2000, combines next level technology with artistry to transform spaces into experiences, locations into destinations, and moments into memories. They were commissioned by Vornado Realty Trust.
*Photo courtesy of Carol Fox and Associates
Other photos by Elaine A. Coorens taken opening night of the first installation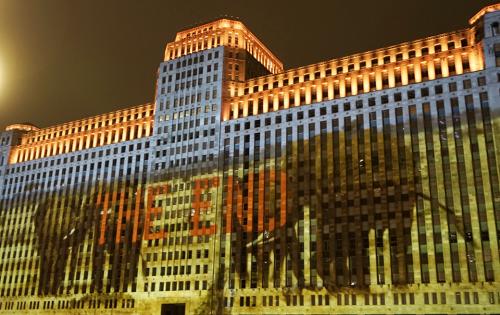 Related:
Crime Stats By District
Columnists