New CVS Pharmacy opens in old Wicker Park bank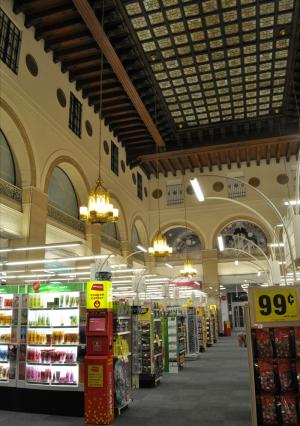 CVS Pharmacy's new location at Ashland and Division is a testimony to structure and interior reuse. It blends the beauty of an historic structure with contemporary commercial needs as it brings more commercial traffic to the corner from 7 a.m. to 10 p.m. each day. Pharmacy is open 8 a.m. to 10 p.m. Mon.- Fri. and 9 a.m. - 6 p.m. on weekends.
The beautiful stained glass ceiling and the massive  columns topped with huge arches greet the customer who enters from the store's front doors off of Ashland Ave. Nestled into this massive space are well lit aisles filled with thousands of items.
Customers of the CVS Pharmacy at Milwaukee, Chicago and Ogden, will recognize a familiar face when they see the new store's manager Joyce Narel. Assistant managers are Amy Eckhard and Brett Nunno.

The pharmacy is located in the northwest corner of the store. A second entrance, located straight up the aisle from the front door, is accessed from the parking area on the Division (south side) of the building.
CVS, a Rhode Island based business, is on Chicago area based Walgreens' home turf with four Walgreens stores to CVS's one.  However their plans include expansion. While they are impacting the Milwaukee corridor on the south end, Walgreens' has one at Milwaukee and Wolcott with another planned for the intersection of Milwaukee, Damen and North in another former bank building.
Built in 1925-26 for more than $1,000,000 for the Home Bank and Trust Company (HTBC), the building was designed by Karl M. Vizthum & Co. While HTBC fell under the weight of the depression in 1930, United American Trust and Savings Bank took over until it failed the next year. Manufacturers National Bank purchased the property in 1948. MB Financial
Bank, continues a branch on the property along the Division St. side though RDM Development company purchased it in December 2004. They began opening the bricked up exterior windows a couple of years ago, giving passersby a different landscape from the unfriendly foreboding gray stone that appeared to want to keep people out.
Keeping people out was exactly the intent of bricking in the windows. It was 1968, the year of Democratic convention and riots.
For more information: initial announcement of project
Related:
Crime Stats By District
Columnists