To open or not to open: Many businesses are unsure when and how or if
With the initial move into the Phase 3 opening of Chicago amid the COVID-19 pandemic on Wed., June 3, many businesses remain uncertain about when, how and if they'll open.
Reports from businesses that opened are cautious. There were customers, socially distancing, but they did not come in droves. 
"On our outdoor cafe, we have three fewer tables than before," explains Wayne Janik, Janik's Cafe, 2011 West Division St. "And, there can be no more than six people per table.
"The good news is that we can sell mixed drinks to go as of today [Wednesday]. We must wrap them and have the ingredients written on the cup."
Fifty/50 Sports Bar at 2047 W. Division St., Parlor, 1824 W. Division St. and Smoke Daddy, 1804 W. Division St., opened, many other restaurants along Division have not. "They are waiting to see what happens."
On Milwaukee Ave., Taxim, 1558 N Milwaukee Ave., had charming little tables set up with a backdrop of plywood covering their windows.
And at all the businesses, there is a reminder to customers to wear a mask. Native Foods Cafe, 1484 N Milwaukee Ave., displays their reminder on the front door.
Challenges
Two nights of war-zone type actions of pandemonium, mayhem, havoc and upheaval in the Chicago area and throughout our country have thousands of people trying to understand what happened and whether, or not to pick up the pieces of their businesses as they work at moving on with their lives.
In the middle of the COVID-19 pandemic, the celebrations of the Chicago Wednesday re-openings is not what was hoped for. 
Many business owners are in disarray. Many are still facing clean-up, patch-up and open-up amid issues with lawyers. They are finding that insurance companies are not covering losses and landlords are not fulfilling on some of their responsibilities. Loans or government support has not come through for some.
"In the last 48 hours, 100 businesses have reached out to us," explained Pamela Maas, Executive Director of the Wicker Park Bucktown Chamber of Commerce, on Wednesday. "We are the '911' for businesses, unless it is a life-threatening emergency. If they are having a life threatening emergency, they must call 911." 
Overwhelmed with 911 calls, the Chicago Department of Business Affairs and Consumer Protection (BACP) asked Chicago's chambers of commerce to take on extra duties. They are accepting reports of vandalism, looting and other damage to public property.
Wicker Park and Bucktown businesses may send these reports via email to the Chamber, including the incident location, what happened and what repairs are needed.
Moving forward now, a Chicago Police Department written report may be obtained by calling 311, online or by going to the 14th Police Station, 2150 N. California, north of Division or the 12 District Station, 1412 S. Blue Island, south of Division St.
"Businesses are looking for help because they are facing things they have never faced before," Maas continued. "Some of their requests are for lawyers. Insurance companies and landlords not covering some major expenses are some of their major issues." 
Another impediment to some business re-openings is that the "new normal" requires some of them to obtain licenses they would not normally need. With many Chicago City offices closed, businesses have not been able to get applications processed. 
Being a retailer has never been an easy career choice. Already challenged by the "shopping online pandemic," the corona virus has stretched their resources and obligations to the brink. This civil unrest coming just as they were about to partially open has many of them in more peril.
Business help from SSA#33
"Rebate programs provided by the Special Service Area #33 (WPB), can assist businesses in fixing three categories of challenges," explains Alice Howe. "Glass replacement and possibly board ups can be covered. We are working on adding the board up component to the program. Our façade rebates can assist in covering repair for things like bricks, while security camera expenses can be covered if they are focused on the exterior sidewalk and street. 
To learn about eligibility for this program, click here. For more information on these rebate programs, connect with Garrett Karp and Alice Howe at the SSA via email. 
Thank you to volunteers and businesses
"Thank you, thank you, thank you, I can't say that enough times to all the people and organizations who have and are helping in the clean up of the area and its businesses. They helped not only in clean up but in security by doing positive loitering," said Maas. 
"With the neighborhood working together with the businesses, it made a marked difference for the businesses and staff of the Chamber and the SSA. 
"Now we will need customers coming back to the businesses as the City continues to move into the next phases of the COVID pandemic."
Changing Streetscape
With many storefronts closed along Milwaukee Ave., there are opportunities for adventuresome entrepreneurs to find just the right spot that will bring more shoppers to the strip.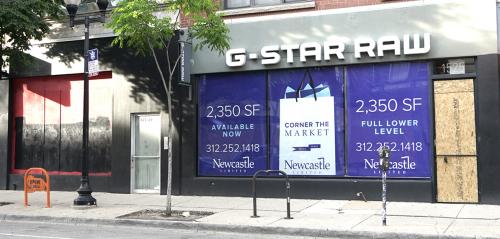 Related:
Crime Stats By District
Columnists