What is Chicago's Special Service Area (SSA) program?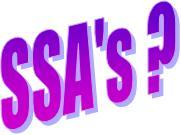 The Special Service Area (SSA) program overseen by the City of Chicago Department of Planning and Development was originally designed to be an economic development tool that established a taxing district within specific community boundaries. 
Currently there are 44 active Special Services Areas in Chicago. Property owners in these respective districts, are levied an additional property tax increase to their annual tax bill that funds Special Services Area programming. 
In theory this is to assist with economic development by providing services such as sidewalk maintenance, landscaping, security and local business advertising. The City contracts with local non-profits, called Service Providers, to manage these SSA programs and in many cases are local Chambers of Commerce. 
Though in theory providing an economic development tool for local business district is an admirable goal, the reality of the application of individual programs falls short, impeding economic development, creating unnecessary financial obligations for the property owners in the SSA and negatively impacting the quality of life for residents in the areas surrounding the Special Service Area operations. 
This is where the problems with SSA's begin
Each SSA is funded by its own incremental tax rate applied to the Equalized Assessed Value (EAV) of properties within the SSA. There is no city wide standard for the values so each SSA establishes their own rate. 
Furthermore, the Mayor appoints the SSA commissioners based on recommendations that are generated by the individual SSAs and the area Aldermen who submit their names to City Council for approval. In a City well known for its lack of transparency and patronage, this process can be corrupted by political and economic agendas that that do not serve the overall interests of the property owners and is fundamentally taxation without representation. 
Who evaluates the credentials of the staff operating these chamber of commerce ensuring that they have the financial training and expertise to wield in some cases millions of tax dollars without any oversight by the local taxpayer contributing to this fund? 
If the Service Provider controls the appointment of the SSA commissioners with the Alderman, is this not an extension of funding for the Alderman? 
The City of Chicago already has a budget that designates funds for many of these activities through aldermanic menu programs, is this nothing more than duplication of City Services where monies are not properly being accounted for and are distributed to vendors, providers and business owners based on what Citywide standards? 
And finally, who performs forensic audits on these funds to guarantee that the process of spending is not tainted?
Related:
Crime Stats By District
Columnists