Community has multiple issues around rezoning of 2435-39 N. Western Ave.
A room full of people was on hand at Haas Park, 2402 N. Washtenaw, Monday night at a public meeting to speak and hear about the redevelopment of the land at 2435-39 N. Western and 2361 W. Altgeld, close to the Kennedy Expressway Western Ave. on and off ramps. Currently the property is owned by Network 2435 N. Western LLC of Milwaukee, WI, with 2435 N. Western LLC of Glencoe being the proposed developer. 
Proco "Joe" Moreno, 1st Ward Alderman set the meeting to provide the developers an opportunity to make their presentation to the community. Interested in hearing residents opinions about the development, he was also able to re-explain issues around density and affordable housing. 
Major concerns discussed were height, density, traffic and affordability.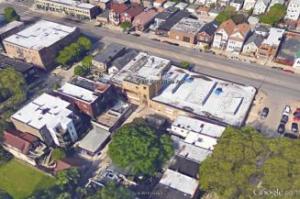 Zoning
Currently the approximate 13,944 square feet of land is zoned as Ml-2 Limited Manufacturing/ Business Park District, a zoning change was submitted to City Council's Committee on Zoning, Landmarks and Building Standards on Nov. 18, to change the parcel to a B3-3 Community Shopping District. While it can be called for a vote in that committee on Feb. 9, the Alderman indicated he could pull it from the agenda, therefore it would not go to City Council the next day, Feb. 10. He said that he will make his decision based on community feedback and that if it passes in Committee it would most likely pass in Council. 
The Project
The proposed project by is for a four-story mixed use masonry building with a brick on all four sides. It would contain a total of 2,830 square feet of retail space, split into two spaces, at grade and a total of 36 dwelling units. To be built on a slab, there will be no basement and the 30 onsite parking spaces would be located within the building at grade. It will be three feet from the neighboring property.
All 36 units are designed to be ADA Compliantand are configured as thirty-three 2-bedrooms and three 1-bedrooms. The 2-bedrooms are a mix of full and borrowed light for one of the bedrooms. 
Being built as a condo quality structure, the units would be rentals with four affordable units on site. Rental prices are estimated to be $2,000 for the fully lit 2-bedrooms with the borrowed light ones between $1,750 and $1,800 with 1-bedrooms at between $1,400 and $1,500. 
Representing the developer were Paul Dukach along with their attorney Nick Ftikas of Samuel V. P. Banks, and architect John Hanna. 
The proposed building height of 49 feet 8 inches concerned several residents who live around the site. Ftikas explained that a shadow study shows that being west of the residential area shows little impact for existing properties. There would be a shadow on neighboring buildings in October and November only. Even then, said Fitkus, it is minimal owing to the fact that there is a 5 foot setback from the 16 foot wide alley. 
Density and Traffic
Along with the height was the concern about density. Dukach indicated that they were targeting a younger market which to most attendees meant multiple cars per unit. 
The developer team and Moreno all cited the reports and experience that show that there is less car ownership among the young. In fact statistics show that only about 60% of car spaces are used in other projects. Giving personal testimony to that, Dukach said that a building that he has in a non-trending neighborhood confirms that. Of his 16 spaces, only 12 are being used. 
Others in the area expressed their concerns about traffic. One of those concerns is about the alley turning into a "highway." Ftikas said that had been discussed. 
First, the only parking facility entrance/exit would be via one curb cut on Altgeld, confining all in and out traffic to an approximate six foot area between Western and the alley. Secondly they were looking at  forcing all exiting vehicles to go westbound on to Altgeld. That would mean that drivers would have to deal with the substantial amount of traffic on Western Ave. 
Scott Jacobs who lives just south of Fullerton said that his whole block has only about 36 units and that traveling now is terrible, particularly at morning and afternoon rush hour along Western. He pointed out that there is the on and off ramp of the highway, the Logan Blvd. crossing, the movie theater and then the Elston, Western and Diversey intersection, all separated by a block. 
While the developers did not have a traffic study, Vicky Schmidt said that a Logan Square study recently showed that the second most traveled street in the City [Western] has 24,000 cars travel that area each day. 
With an opposite opinion was Lawrence Kaufman, a physician with a medical practice across Western from the proposed project. With about 40 cars daily entering and exiting his property, he says that the stoplight gives an opportunity to go north or south on Western. "You may have to wait three minutes, but you can get across," he says. 
Affordability
There are two parts to the issue of affordability. One is the cost of the units and the second is complying with the Affordable Requirements Ordinance (ARO) for developments of 10 units and more. 
Residents pointed out that $1,400 to $1,500 a month is not affordable for many people. 
Regarding the ARO, the complaint is that the AMI (Average Median Income) used to calculate "affordable" is the percentage from Cook County, which is higher than in the local AMI. 
Moreno explained that using the AMI of each area of the City would hurt not help residents. "Density is a friend of affordable," he repeated several times. "It is the lack of density that drives up prices." 
Moreno announced that he is, with 73 units, number one among Chicago Alderman in getting affordable units on site in his ward in the last five to six years. He requires developers to provide 10% affordable units (10% of the numbers being built) not paying the $100,000 per unit buyout of that obligation. His point is that the buyout money does not stay in the community but rather goes into a general fund, providing units in other parts of the City. 
The use of Chicago Housing Authority (CHA) vouchers as a way to get more affordable housing was also brought up. However, Moreno said that that is a very complicated approach. 
A new ARO is to be going before the entire Council next month. 
Other concerns
Because of previous attempts to put a pawn shop on that site, Sally Hamann requested that a covenant be included that precluded a pawnshop going into to the commercial space. Ntikas said that they would be doing a Type 1 Plan [Type 1 requires them to build what is in the Type 1 document which stays with the property for its life regardless of who owns it.] and that it would include "no pawnshops." 
Next
Moreno encouraged everyone to send their comments about the project to him. "Don't just say 'yes' or 'no,' explain what you don't like and what would be acceptable to you." The 1st Ward email is here and their phone number is 773.278.0101. 
Prior to Monday night, Moreno had received approximately 50 comments. He said that some of them declared if there are affordable units, they will vote against it.
Related:
Crime Stats By District
Columnists