Eight arrested during Occupy Palm Sunday at CHA's Lathrop Homes: What is the Lathrop Homes story?
While many Christians around the world paraded with palm fronds on the Sunday before Easter in celebration of a triumphal entry of Jesus into Jerusalem, 100 to 200 people in Logan Square waved palm leaves and signs as they chanted "Show Us the Plan!," in hopes Mayor Rahm Emanuel was listening.
The Occupy Palm Sunday rally began at the Chicago Housing Authorities' Julia C. Lathrop Homes at 2029 W. Diversey Parkway on Mar. 20, at 10 a.m. That was followed by a procession to a boarded up Lathrop residence in the 2800 block of N. Clybourn Ave. where a 24-hour occupation began. 
By 7 p.m., eight of the "occupiers" were arrested and loaded into a Chicago Police Department van and taken to the 19th District headquarters for processing. 
"We were ticketed for trespassing under the Chicago Municipal Code and released in about and hour," explained Leah Levinger, Executive Director, Chicago Housing Initiative. "The police were very respectful and nice, they knew that this was a symbolic action not one to really take over the space."
The hour rally included a welcome by Miguel Suarez, community leader and Lathrop resident and Rev. Liz Munoz, Vicar of Nuestra Senora de las Americas followed by an invocation and prayer by Re. Marilyn Pagan Banks, Pastor of San Lucas United Church of Christ in Humboldt Park.
Bruce Ray, Pastor of Kimball Ave. Church, was the opening speaker and was followed by a presentation called ""Flipping the Tables." Pastor Drew Rindfleisch, Assoc. Pastor of San Lucas United Church of Christ spoke as youth from Senora de las Americas and San Lucas portrayed the passing of Rahm dollars and coins.
Testimony was given by Cynthia Scott, Vice Pres. of the Local Advisory Council of Lathrop Residents, amid chants and songs.
Rally participants then walked to the site of the occupy where two more testimonies were given by Laura Donaldson with Access Living and Natalie Saffold a former resident of LeClaire Courts on the south side before it was torn down six years ago.
Donaldson has been on the CHA waiting list for 24 years since her daughter was born. In a wheelchair, she and her daughter have been homeless part of time her daughter was growing up.
With the "right to return," Saffold's home was one of 616 units demolished but not replaced.
Pastor Erik Christensen, St.Luke's Lutheran Church of Logan Square and Bishop Wayne Miller, Metropolitan Chicago Synod, Evangelical Lutheran Church of America, closed the program and then began the occupation of the residence. A stream of people marched in to the beat of a collection of Environmental Encroachment band members.
What was behind this?
Repeated efforts to meet with Mayor Emanuel went unanswered as did attempts to meet with John Hooker, CHA Chairman, and Curt Bailey, CEO of Related Midwest, the for-profit luxury high rise developer, who leads the Lathrop Community Partners (LCP), which also includes Bickerdike Redevelopment Corporation.
On Feb. 18, the Chicago Plan Commission approved an application for a Planned Development despite serious questions raised by some of its own members regarding the elimination of public housing units without a specific plan to replace them. 
From that agenda, the policy reads:
A proposed Waterway-Residential Business Planned Development submitted by Lathrop Community Partners, LLC, for the property generally located at 2820-2996 N. Clybourn Avenue; 2000-2144 W. Diversey Parkway; 2007-2141 W. Diversey Parkway; 2601-2953 N. Leavitt Street; 2800-2888 N. Leavitt Street; 2601-2769 N. Hoyne Avenue; 2600-2768 N. Hoyne Avenue; 2600-2800 N. Damen Avenue and 2201-2223 W. Oakdale Avenue. The site is currently zoned RT-4 Residential Two-Flat, Townhouse and Multi-Unit District and POS-2 Neighborhood Park, Mini-Park or Playlot District. The applicant submitted an application to reclassify the site to a B2-1 (Neighborhood Mixed Use District) and has amended the application to seek a C2-3 (Motor Vehicle-Related Commercial District) underlying zoning. The applicant requests a rezoning of the subject property to a C2-3 (Motor Vehicle-Related Commercial District) prior to establishing the Waterway Residential-Business Planned Development. The proposal will allow for the construction of two new mixed use buildings, the renovation of 14 existing structures, allow for 1,208 residential dwelling units and 50,000 square feet of commercial and retail space, establish multiple subareas, accessory parking, and accessory and incidental uses. (1st and 32 Wards)
The primary issue is that of the 1,116 units proposed for the entire project, only 400 will be low income (36%) with 494 at market rate (44%) and 222 affordable (20%). However, there is no specific plan to provide the 525 other low income units on Chicago's north side. [Note: if the 92 units from the senior building are added to this mix the total units are 1,208, changing these percentages.]
The public's money via the Federal government has poured into CHA for Lathrop Homes at the rate of $10,000 per unit per year. That means that $9,250,000 public dollars go into the CHA coffers every year. Currently there are about 140 units occupied and they are not being properly maintained, despite the over $9 million CHA continues to get annually. 
Alderman Proco "Joe" Moreno, 1st Ward, promised an auditorium full of people on Feb. 3 that he, would not let the LCP project be passed in City Council unless CHA assured them that the 525 low income units would be a certainty for the north side. 
Eugene Jones, Jr, CHA's CEO, wrote a letter on Feb. 17 to Moreno saying that they were "committed" to working on getting the 525 putting no specifics into the letter. Over many years, CHA has left a substantial path of broken promises.
Project and space history
Sitting on a 32-36 acre prime parcel of land bound by the Chicago River, Diversey Parkway, Clybourn and Damen, Lathrop Homes includes 30 some buildings. Now owned by CHA and sitting on public land, it was created in 1938 with 925 low income homes designed by a team of prominent architects led by Robert S. de Golyer with landscaping by the highly acclaimed landscape architect Jens Jensen. The complex included other buildings including a laundry and power plant. 
About 15 years ago, CHA produced the Plan For Transformation in which the redeveloped complex was to be 100% public housing. Then in 2006, CHA announced it would demolish Lathrop and build mixed-income housing. Changing their approach by 2010, CHA issued a request for proposal that combined preservation and new construction in a mixed-income redevelopment plan. 
Lathrop was placed on the National Register for Historic Places in February 2012. The hope is that, while that makes no guarantee that buildings will not be torn down, in this case it can be beneficial in keeping some buildings safe from the wrecking ball. 
"Developers want to benefit from tax incentives that can be obtained for historic places," explains Ward Miller, Executive Director of Preservation Chicago. "With CHA involvement, it would not be looked on favorably for one government agency [CHA] to not abide by another's [Landmarks] rulings." 
He goes on to say that while many preservationists are happy to see the developers coming closer to preserving more buildings in Phase One, they are concerned about the other phases. "It is difficult to talk about preservation and reuse of buildings until we can see the plans. 
"We hope that once there is completion of sections, that we can get them and their landscapes declared landmarks," said Miller. 
Of particular concern are the row houses with their kitchen gardens designed by Jens Jenson which are in the area proposed for demolition.
It was also in 2012 that reporter Angela Caputo of the Chicagoist wrote that CHA was collecting subsidies from the Department of Housing and Urban Development on empty units. This is a violation of a HUD order that states public housing authorities must inform them when a unit goes "offline" because of repair or vacancy. Caputo found that one out of every five of CHA's 21,204 units was vacant. 
How is that possible? In 1998, Mayor Daley negotiated a sweeping de-regulation agreement with the federal government that allows CHA to use taxpayer dollars, intended to provide low income housing, any way they want. Emanuel's administration wants this agreement extended to 2028. 
Since 2000, during the Clinton administration, there has been no regulation. The only accountability that CHA has is to Mayor Emanuel. 
CHA continues to shutter the units while they collect money from public funding for 925 units. Yet for the few tenants left, many of their units could be closed because they are unsafe because CHA is not making repairs. 
Proposed configurations
In 2012, the proposal from Lathrop Community Partners (LCP), consisting of Related Midwest in partnership with Heartland Housing and Bickerdike Redevelopment along with CHA, had a "big reveal" plan.
Those plans were sent back to the drawing board.
By September 2015, the unit count was up to 1,200 residences, 50,000 square feet of commercial space with 800 parking spots and four new streets which are off of Damen (CostCo parking lot) Parker, Schubert and Drummond (E/W); Seeley (N/S)  Requires: removal of most of Hoyne and Leavitt.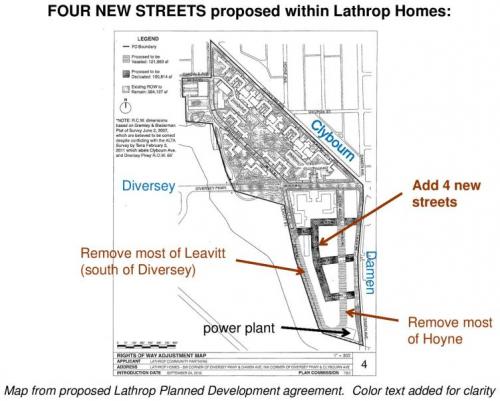 Push back on the plan includes questioning why, with massive amounts of retail surrounding the Lathrop site should retail be added, much less 50,000 square feet of it. 
On top of the retail space, the developers propose adding four more streets and tearing out portions of two existing streets. Furthermore the streets are oriented toward the CostCo entrance. Repeatedly asked about the costs of these actions, no response has been given. 
Despite Jone's letter to Moreno last month (shown above), Lathrop residents and supporters feel that based on previous promises, do not believe CHA will provide 525 more low income homes on Chicago's north side. Right now, however, the project has a go. Next issues will be financing.
Related:
Crime Stats By District
Columnists