No community or aldermanic control under Emanuel's latest proposed TOD ordinance
The latest Transit Oriented Development (TOD) ordinance, introduced July 29 by Mayor Rahm Emanuel, has many aldermen and community members concerned. 
Their concerns also include pushing this ordinance through without taking time to properly vet the plan. While there is a Zoning, Landmarks and Building Standards Committee scheduled for next Monday, September 14, it is not on the agenda and, according to official sources, there have been indications that the Mayor wants it passed at City Council's Thursday, September 24, meeting.
The Metropolitan Planning Council (MPC) produced a Grow Chicago document in July, supporting TODs.  
Key points of the ordinance
This version focuses on property zoned B-3 and C-3. According to some officials, indications have been given that the dash three will be expanded, applying to any property in B and C zoning as well as D and M zoning (latter two not covered in this story). 
The ordinance applies on streets located within 1,320 feet (one-fourth mile) of a CTA or METRA rail station entrance or within 2,640 feet (one-half mile) of a CTA or METRA rail station entrance when the building is located along a pedestrian street or a pedestrian retail street. 
Falling under those boundaries, each building may:
have a .5 increase in floor area ratio (FAR) from 3.0 to 3.5. An additional .25 increase is available (raising it to 3.75), If they provide at least 50% of the affordable (ARO) units on-site. For 100% on-site, the increase may be an additional .5 to 4.0.
have a height increase of
have MLA reduced lot area per unit, increasing density. Using a standard lot of 25' x 125', this would allow for two to three extra units. (Previously this benefit was provided if developers reduced parking by 50% of required spaces.) 
Important Note
Most people who expressed concerns and/or objections to this revised ordinance are supportive of TODs. 
They recognize that:
density at transportation hubs will aid in the growth of the City's population and economic growth
reducing automobile dependence/usage and increasing use of public transportation and bicycles is part of eco-friendly urban living
Major Concerns

Most troubling to aldermen and community members is that zoning changes and proposed new TOD projects could be approved  by a zoning administrator or by the Zoning Board of Appeals with out aldermanic or community knowledge or input.
Expanding the area covered by a TOD, stretching the distances from the transportation hub to one-quarter and one-half miles. This increase produces overlapping hubs. 
Incentivizing the tear down of existing buildings that should be saved. 
Eliminating incentives to reduce parking. 
Comments
"What's the hurry," asks architect Scott Rappe*. Realizing the architectural devastation the new proposed ordinance could have in the East Village, Pulaski Park, Noble Square and Wicker Park intersections of Division Street at Milwaukee and Ashland Avenues, he applied the proposed ordinance to the heavy rail center at the Polish Triangle. He feels, as do others, that there need to be changes to this new proposal.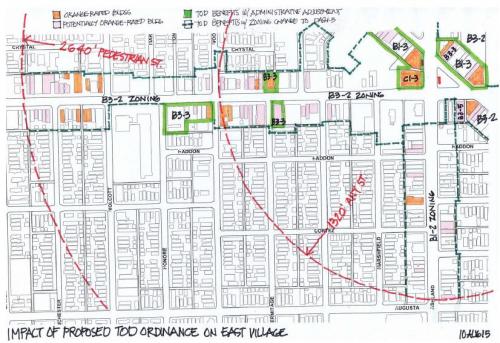 When he drew a map around the transportation hub at Milwaukee, Division and Milwaukee, Rappe began realizing the potential impact of the new TOD ordinance. 
"My concern is that land costs will be driven so high that a developer's only option is to demolish some of the small buildings," he said.  
An example is around the Polish Triangle. There is the Chopin Theater, the  former Zgoda Polish newspaper (interestingly, zgoda means harmony), 1212 N. Ashland, home of Aldo shoes, and a few other non-orange rated but classic buildings along Ashland, Milwaukee and Damen. According to Rappe, "Buildings like these are threatened because they do not  maximize the zoning potential of their lots."
He points out that the loss of such buildings would negatively impact the community. The character of the neighborhood would be lost as would a visual balance of space. In addition, he said that tearing down old buildings is not sustainable. "Preservation and Transit-Oriented Development are both rooted in the concept of sustainability; they are not at odds with each other. We need to be careful not to structure zoning incentives that put them in conflict. Tearing down a well constructed old building and replacing it with one that is marginally larger, marginally taller and marginally denser does not serve sustainability goals and it doesn't significantly advance TOD either." 
Rappe suggests, "We implement some protections for orange-rated and otherwise historically/culturally/architecturally valuable buildings. Currently there is no way to prevent valuable buildings from wholesale demolition short of land-marking them.  
"Not every building warrants land-marking, but not every building within 600 feet [or as determined] of heavy rail should be torn down and replaced with a mid-rise, either.   
"Orange and red rated buildings should immediately be excluded [from the wrecking ball]. A process should be put in place to assess buildings before granting an owner TOD benefits. And, if demolition of a valuable existing building is precluded, we can still achieve TOD goals and incentivize renovation by reducing parking requirements (to zero) and allowing increased FAR and unit density (by allowing additions)." 
While buildings in our near northwest side neighborhoods have been part of our larger communities for more than a century and a half, residents are the vital partners in the community and its health. To that end, the issue of "affordable housing" is part of the TOD ordinance. 
"I am very concerned about getting affordable housing into these buildings," said Sally Hamann, Greater Goethe Neighborhood Association (GGNA) after she drew a circle around the California Blue Line stop. "They will be displacing families in our area and I'm sure in other communities also. It seems to me that the ordinance lowers the chances for getting affordable housing into a TOD."  
Most of the City's historic residential neighborhoods were originally developed in conjunction with the extension of elevated train lines, reminds Paul Sajovec, Chief of Staff for 32nd Ward Alderman Scott Waguespack. "However, as the recently proposed revisions to the code reveal, the concept of transit oriented development has been co-opted by those seeking new methods for enabling building height and density that detracts from, rather than enhances, our communities." 
Regarding extending the TOD boundaries, Sajovec said, "The problem with over-extending the boundary, treating parcels half- mile from a station the same way as ones directly adjacent, is that greater numbers of residential units can be developed at greater distances from transit. 
"Assuming the demand for residential units is not infinite, see the 2008 housing downturn as evidence, this translates to fewer units being built close to stations where they provide the greatest benefits. 
"If the true goal is to incentivize and encourage transit oriented development, providing larger incentives within one-eighth of a mile is the most efficient and effective approach." 
While the 2nd Ward is configured in an "unusual" manner, an illustration by Rappe shows a patchwork of TOD areas and their overlaps.
On the point of turning over TOD approval decisions to a zoning administrator, Sajovec said that the administrative adjustment process was designed to address minor adjustments to setbacks (up to 50 percent) and building heights (up to ten percent), not as a means to dramatically increase residential density and building heights. 
"Putting these development decisions under an administrative adjustment are so beyond the scope which the adjustments were designed to address that the authors deemed it necessary to create an entirely new category of administrative adjustment." 
The new category requires notices be mailed to property owners within 100 feet rather than the existing requirement of notice only to the immediately adjacent property owners. The ordinance authors forced transit bonuses into the administrative adjustment process as an attempt to insulate Alderman from the justifiable opposition mounting across the City to overly aggressive development plans proposed under the guise of transit oriented development." 
Ed Tamminga, architect and Chair of the Wicker Park Committee's (WPC) Preservation and Development Committee (P&D), questioned whether or not what is agreed to between a developer and community on a dash 2 project would not end-up going downtown and end-up being a dash 3 with all the perks that are now proposed. 
On the topic of parking, the MPC states:
"The ordinance suggests that it would more than double the parcel area that would qualify as-of-right for density increases and parking minimum reductions, and it would increase by more than tenfold the area qualifying for parking minimum reductions." 
The proposed ordinance, however, eliminates the incentive for reducing parking by giving developers an added number of units in a two to three bump up per parcel, whether or not they reduce parking. 
Developers have been proposing large projects up and down Milwaukee for the last couple of years from Division to California. These projects have been heavily weighted with studios, sized from 400 to 500 square feet and one-bedrooms from 600 to 800 square feet. 
"The TOD ordinance is a good, even noble idea," says Paul Dickman, long-time Wicker Park resident and member of WPC's P&D Committee, "but part of its original purpose was to encourage development in existing -3 districts near transit. The bulk of those locations are in Woodlawn, Englewood and Garfield Park, where vast tracts of land still look like Dresden in the summer of '45. But, none of the TOD projects are in those neighborhoods. 
"Increasing the range of the ordinance will not improve this. 
"The CTA has 224 miles of track, yet the bulk of these projects occur along a few miles of track where developers already want to build. The process has been co-opted. Incentivizing -3 districts has resulted in almost every developer requesting a bump up to a -3. 
Looking toward the future, Tamminga said that he is skeptical about the marketability of no parking and small units being viable 30 years from now.
Terms
Pedestrian Street -- A retail-oriented street designated on the City zoning map due to a high concentration of stores and a mostly continuous pattern of buildings along the sidewalk.  
Minimum Lot Area (MLA) -- The minimum amount of lot area required per dwelling unit. 
Floor Area Ratio (FAR) -- The ratio of the floor area of all principal buildings to the total area of the lot upon which the buildings are located.  
Affordable Requirements Ordinance (ARO) -- Requires projects of 10 or more units that need a zoning change or other City assistance to include affordable housing provisions. 
According to the Center for Transit-Oriented Development (CTOD), "Transit-oriented development, or TOD, is a type of community development that includes a mixture of housing, office, retail and/or other commercial development and amenities integrated into a walkable neighborhood and located within a half-mile of quality public transportation." 
*Scott Rappe, AIA LEED AP, Principal of Kuklinski+Rappe Architects, is Past President, AIA Chicago 2014 Board of Directors
Photos and charts, except where noted are courtesy of Scott Rappe
**Photo: Elaine Coorens 
Related:
Crime Stats By District
Columnists