Should historic Elston Ave. brewing complex be destroyed for a big-box retailer?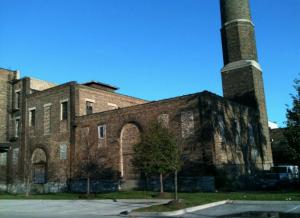 Updated financial info below.
North Elston Avenue between Armitage and Diversey, along with nearby Clybourn, Western, Fullerton and Ashland Avenues, has long been one of the most traffic-choked and accident-prone areas of Chicago.
If the former Brand Brewing Co. complex remains, the multiple structures and unique floor plans could be adapted to many different uses, such as a brewery, restaurant, bar, beer garden, retail space or office space. (Photo: Steffes)
If rumored plans go through, the historic Brand Brewery complex on the 2500 block of North Elston may soon be demolished for something the area has an abundance of today - a national big-box retailer selling electronics and appliances.
The Brand Brewing Company complex was constructed beginning in the 1890s. Once part of a rich legacy of
former local breweries in Chicago, the company ceased operating in 1935, and the complex has been used for a variety of purposes over the years. Despite alterations and the demolition of part of the building, details of this complex are still easily seen.
Despite alterations, graffiti, and vehicles parked on the property, architectural details show the rare survivor of a 19th century Chicago brewery.
Although Chicago has long been less of a brewing center than Milwaukee or St. Louis, the rise in recent years of a new and vibrant Chicago brewing culture and neighborhood breweries has been remarkable. New Chicago breweries opened in recent years include Revolution Brewing, Half-Acre Beer Company, Metropolitan Brewing, Haymarket Pub & Brewery, Finch's Beer Company and 5 Rabbit Cerveceria, with additional breweries scheduled to open in the several months.
The popularity of these new breweries is well known. A sign recently seen in the window of Half-Acre Brewery on Lincoln Avenue regarding their popular tours notes, "we have retired our online reservation system due to scary demand" and states that every Saturday tour - which accommodates 60 people, or over 1600 people total - is full through June 2012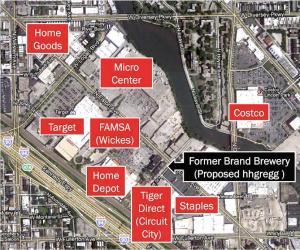 The Brand Brewing Company complex could be an ideal location for one of Chicago's new or existing breweries to operate in a purpose-built 1890s brewery. Combined with a restaurant, bar, beer garden, retail or office space, these revitalized structures would give this heavily-trafficked stretch of Elston Avenue its only non-big box retail destination, and could be a major catalyst to bring even more customers to the
Map showing eight national big-box retail chains already selling computers, appliances, furniture and office supplies less than one-quarter mile of the Brand Brewery complex. This does not include Best Buy, Kohl's or Menards, which are all located less than one mile from proposed hhgreeg store. (Photo: Steffes and Boogle's Street View).
existing stores within a few hundred feet of the brewery, many of whom may not be regular visitors to the area.
Hhgregg, an aggressively expanding Indiana-based chain of home furnishings and electronics stores has been rumored to have expressed interest in demolishing the historic former Brand Brewing complex for a new Chicago store.  Because the Brand Brewery is not a city landmark, this complex can be demolished following issuance of a demolition permit, which could happen in a matter of months.  When contacted, a representative of hhgregg said there was no news to report on a store at this location.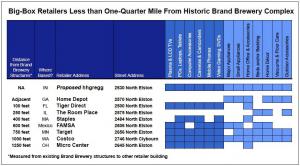 If you need a TV, PC, tablet, vacuum cleaner or digital camera, there are a wide variety of national retailers to choose from, all within walking distance of the proposed hhgregg locations (Chart: Steffes)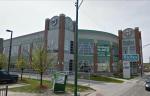 Just 600 feet from the proposed hhgregg store at 2606 N. Elston, Wickes Furniture opened this stand-alone flagship store of 48,000 square feet in May  2007. Still shown on Google Street View, this store operated for just 10 months before closing in March 2008, when the company went out of business. Thi store is now FAMSA (Google street View).
Elston Avenue has recently seen several high-profile stand-alone retail stores built by aggressively expanding national chains, only to close soon after opening. Across Leavitt Street stands the former Circuit City store, which closed in 2009 when the chain was liquidated.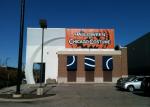 The former Circuit City store is now occupied by Tiger Direct, a chain with ownership ties to CompUSA, another rapidly expanding former electronics retailer that closed more than 100 retail stores in 2007.
Just north of Best Buy and Kohl's at 2184 N. Elston sits the long-closed 85,500 square foot Robbins Brothers Jewelers("the engagement ring store"), a vibrant addition to North Side retail from October 2007 to April 2009 (Photo: Steffes)
The Rapid Expansion of hhgregg and Loss of Stock Value
Hhgregg opened 14 stores in the Chicago suburbs simultaneously on September 15, 2011.  Additionally, between May 3, 2011 and the Chicago area store openings, hhgregg opened another 17 stores in South Carolina, Alabama, Florida, Ohio and Pennsylvania.[1]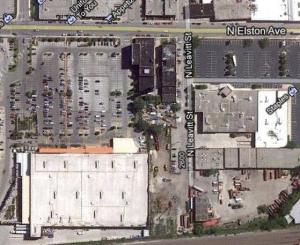 Despite an aggressive national expansion, including the occupancy of former locations of defunct big-box chains such as Circuit City, Linens 'n Things and Borders Books and Music, the stock price for hhgregg has fallen dramatically in recent months. In the year ending September 30, 2011, shares of hhgregg had fallen over 60%, to $9.75; during the same period the S&P 500 was down less than 1%.
The narrow former Brand Brewing company site is at top center; Home Depot is to the left, the former Circuit City and existing Staples, respectively, are to the right (Google Street View)
Although stock prices fluctuate, the decline in hhgregg's stock price shows the challenges their strategies may be facing.
The financial woes continue for hhgregg. The most recently announced results, for the quarter ending June 30, 2011, showed existing-store sales falling 13.2%, and a loss of $800,000.  The recent quarterly loss for hhgregg follows a 10.8% decrease in existing-store sales for the quarter ending March 31, 2011.[2]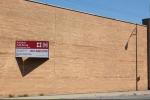 The site of the Brand Brewery complex is comparatively small and narrow for a big-box retailer on Elston Avenue - about 50% smaller than the size of the long-closed Circuit City store across the street at 2500 North Elston (right in image above), and less than one-third the size of the Home Depot store across the parking lot at 2570 North Elston (left).
One block from the Brand Brewery site at 2475 N. Elston is a 325,000 square foot (7.45 acre) building and site for sale (shown above), one of several large vacant buildings and empty lots which could be developed for a big-box retailer (Photo: Dan Pogorzelski)
Jacob Kaplan, Editor, Forgotten Chicago, wrote about Brand Brewing and other extant Chicago brewery structures in a 2009 article on the Forgotten Chicago site.  He is puzzled as to why a big-box retailer would want to demolish this historic complex in order to build a new store.
Kaplan notes, "Along this stretch of Elston Avenue between Diversey and Armitage, there are currently hundreds of thousands of square feet of vacant land and empty or disused buildings for sale.  Any retailer, including hhgregg, should be able to build a store along Elston Avenue with the proper permits and zoning, but it doesn't make sense to tear down such a historically significant set of buildings when there is already an abundance of vacant space located so close to other national retailers."
Kaplan continues, "This area of Chicago has only one remaining historic brewery complex, and if Brand Brewing is demolished, it's gone forever.  I can't imagine us looking back 20 years from now and saying that another big-box electronics and appliance store improved the cultural and economic life of this neighborhood and the city, the way a restoration and reuse of this historic brewing complex would."
Update: Results for the quarter ending September 30, 2011 were released on November 2, and existing-store sales increased just 1.5%, which may be considered low for a retailer making an aggressive national expansion.  Sales for the previous six months for existing hhgregg stores still showed a decline of 5%, however.
Also on November 2, it was announced that all Filene's Basement stores would close nationwide, including two in perhaps the most trafficked retail locations in the Midwest - 830 North Michigan Avenue and 1 North State Street.  It is worth noting that the soon-to-be-vacant Michigan Avenue store is less than one block from the high-profile Best Buy store in the John Hancock Center. For the first Chicago hhgregg store, what better way to show you are a indeed a serious competitor to Best Buy than to compete with it head-to-head on one of the nation's premier shopping districts?
---
[1] Hhgregg press releases from http://ir.hhgregg.com/releases.cfm (Accessed October 27, 2011).
[2] Hhgregg financial results from: http://ir.hhgregg.com/releases.cfm (Accessed October 27, 2011).
Related:
Crime Stats By District
Columnists