Spot zoning in the 1st Ward Milwaukee Ave. Historic District: Approved by Moreno over WPC objections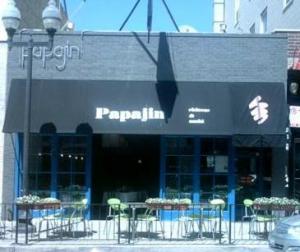 In the Milwaukee Avenue Historic Landmark District, a request for a spot zoning upgrade for 1551 N. Milwaukee Ave. was given by 1st Ward Alderman Proco "Joe" Moreno over strong objections from the Wicker Park Committee (WPC), the residential community group. 
Mr. Wang, owner of the property and Papajin Restaurant, along with his team proposed an up-zoning from B3-2 to B3-3, at an Apr. 24 meeting with WPC's Preservation and Development Committee (P&D). The intent was to replace the existing single story building with a 4-story structure with commercial on the first floor and residential above. 
The differences between the -2 and -3 are FAR (floor area ratio to lot), height and density. 
In -2 district they require 1000 square feet of lot for each dwelling unit, with a 2,972.5 square foot lot, they would be allowed two and a half units. "They were short of meeting their MLA (number of units) by about 1%," explained Paul Dickman, a member of P&D.
"With just a little paperwork they could have a MLA variation to be able to achieve three units without a zoning bump. Under a variation they can get up to a 10% reduction in required lot area. They are under code for height in -2, which is 47 feet, 50 feet for -3.
"What the zoning change gets them is is more floor area for larger units and thus higher rents," he concluded.
P&D unanimously voted against the zoning upgrade at the April meeting. 
The applicant returned to P&D on May 19, with the builder. Presenting design changes, they explained their usage and once again requested a recommendation for an up-zone. As a result of the presentation, P&D made two motions.
The first motion was to reject the up-zoning for lack of a compelling reason in an historic landmark district where B3-2 zoning exists on both sides of the block. It was pointed out to them that they could have their expanded use with three dwelling units under the existing zoning, if they did paperwork with the zoning board. 
As has been experienced in the neighborhood, an up-zone will be used as precedent for further up-zoning requests. In fact, the developer of the Papajin location used another spot up-zoning several blocks away to argue that precedent had been set. The committee's vote was unanimous rejection of the request. 
In favor of the project, the second motion supported the proposed materials and massing along the front elevation as consistent with materials and massing of the landmark district. Addressing the northwest elevation, they recommended face brick or jumbo brick be used because of streetscape visibility. That motion passed unanimously in favor. 
In a meeting with the Alderman on July 22, P&D Committee members explained that they were for the project but not the zoning upgrade. The discussion about the ramifications of precedence and the concern over the changing TOD [Transit Oriented Development] Ordinance. 
As Edward Tamminga, P&D Chair, points out, "The expansion of the TOD ordinance makes careful evaluation of any B3-3 up-zoning request especially important."  
Based on the current proposed expansion, property in play can be up to 1,320 feet from a transit station or 2,640 feet on a Pedestrian-designated street. Many structures will be in the path for developers to teardown existing structures and replace them with large scale projects in Wicker Park and any neighborhood near hard rail hubs. 
Alderman's decision
Moreno said that he had to think it over. On Aug. 5, Raymond Valadez, Chief of Staff to the Alderman, wrote an email notifying P&D that Moreno "supported the zoning change to B3-3 at the last Zoning Committee meeting and the matter passed the full City Council at its last meeting on July 29th. 
"He decided to support Mr. Wang's zoning development proposal, which he believed was more than reasonable and comparable in size and scope to other newer developments on Milwaukee Avenue. Moreover, Alderman Moreno was inclined to work with a longstanding business owner in his efforts to develop the property and re-open his restaurant in a newer commercial space."
According to Teddy Varndell, Wicker Park Committee Board member and long-time P&D Committee member, "This is essentially a favor for a long-time Wicker Park business owner that allows him to build a larger building and put more money in his pocket. Although I like Mr. Wang and his restaurant, this spot-zoning represents a potentially dangerous precedent for Wicker Park."
Photo source: City Data
Related:
Crime Stats By District
Columnists