Boo-Palooza ramps up to beat all attendance and fun records in Wicker Park with performances and participation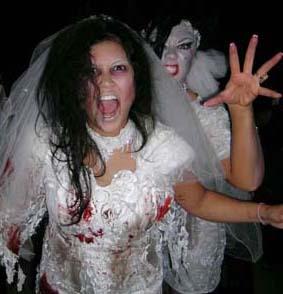 Wicker Park's Boo-Palooza, with weather predicted to be outstanding, could break all attendance records on Sat., Oct. 25, from 10 a.m. to 2 p.m. The entire park, 1425 N. Damen, will be filled with activity tables, parades, educational experiences and performances. 
Characters and creatures from all over and beyond will be haunting the Park.
Performances will be incredible and will be presented by outstanding artists from all over Chicagoland:
9:45 a.m. – 10:30 a.m. Magic Boat Puppet Theater
10:30 a.m. – 11:00 a.m. JLC Mad Hatters
11:00 a.m. – 1 p.m. Cirques Experience (Performance and Audience Participation)
11:45 a.m.– 12:30 p.m. Magic Boat Puppet Theater
12:30 - 1 p.m. – Dance to Evolve
1:30 p.m – A.N. Pritzker Dancers choreographed by Chicago Danztheatre Ensemble 
Wicker Park's very own
Collaboraction Theatre Company
 (located in the Flat Iron Arts Building) will be hosting a Costumed Dome of Dance, in which participants young and old will dance battle inside a geodesic dome until there is a Boo-Palooza battle dance champion!!!!! The renowned Dome of Dance led by Collaboraction's Artistic Director and the Greatest dancing MC in the universe, Mr. Anthony Moseley and DJ Shon Roka. Bring your Boogie! The dome will be assembled in the softball field near the stage. Dancing will begin at 12:30 p.m. and continue until 2 p.m. Wear your costumes and sign up when you arrive. 
Recently, I heard of Wolfgang Bientzle's Cirques Experience, an incredible performance and teaching group that is part of the Chicago Park District's partnership program at Willye B. White Park. His group focuses on 'wheel gymnastics. "Wheel Gymnastics?" you ask. 
Wolfgang's website states: "Wheel Gymnastics is a competitive gymnastic discipline, which was invented in Germany in 1925. The sport is organized in about 30 countries with an estimated 50,000 participants worldwide. The sport engages the whole body but is low impact at the same time. At the highest level, male and female gymnasts usually compete until their mid-thirties, with their prime time in the early twenties. At a recreational level, wheel gymnastics can be done at all ages, the oldest competitive gymnast is currently 86 years old." Wofgang was a world champion and has an incredible resume – check it out here. 
At Boo-Palooza, Mike Tomita, one of Bientzle's coaches and a member of his Junior Team will be stationed on the basketball court from 11 a.m.to 1 p.m. During that time, they will demonstrate the wheel in performance and then give the audience the opportunity to try the wheel out. You will learn to command the wheel. They will repeat the performance and teaching cycle several times during the two hour session. For further excitement – view this website and see some of Bientzle's performances. 
Magic Boat Puppet Theater's Tyler Culligan and Jacob More say: "We will have a lot of puppets and some new faces. Of course brother Abbot and Brother Bear will be there. We have a couple songs ready to go, including new ones that have never been performed live, and a fun dance time with Holly and our Magic Boat Crew."  
Magic Boat will perform on the west side of the field house at 9:45 a.m. to 10:30 a.m and at 11:45 a.m to 12:30 p.m. following the Costume Parade. Magic Boat has performed numerous times in past years in the Wicker Park playground and is back after taking the 2014 summer off to pursue other ventures. 
Wearing their collection of crazy, wild, eccentric Hats, The Junior League of Chicago's Mad Hatters return to Boo-Palooza to perform at 10:30 a.m. to 11 a.m. on the west side of the Field House. They are always a hit at the event. Following the performance, they will lead the children to the Costume Parade that begins in the softball field at 11 a.m. 
Mad Hatters promotes literacy among children and literacy awareness to parents through an interactive story time for children and their parents. Story time demonstrates to parents and children that reading can be fun and aims to translate this value to parents. The committee members visit libraries, schools, and other community groups to perform to children ages 3 to 9 years. Performances include books, poems and songs while wearing crazy hats to encourage each child in the audience to expand his/her mind through reading and to familiarize each child with the local library, while stressing the fun and importance of reading! 
Since 2011, The Chicago Danztheatre Ensemble (CDE) has partnered with A.N. Pritzker School and its talented students. They will present a dance performance on the basketball court at 1:30 p.m. Lauren Parets, CDE choreographer and instructor of the students says "The theme of this year's dance performance is Transition. 
The three dances that will be shown are about the transitions between friendships: the transitions of love and loss, and the transition of being the best you can be amongst the hardships of everyday life. The twenty minutes dance is choreographed to a wide range of compositions from Temper Trap's Sweet Disposition to DJ Drehz's Heartcry. 
Over 35 students are expected to participate! "The students are from a wide variety of dance levels," Lauren says, "We create a place where the dancers feel safe to express themselves and feel fully capable to go after their potential. I am honored to be able to experience and watch these dancers grow into confident movers and idea makers!"
Dance to Evolve has been a dance instruction partner with the WPAC's summer performance and education series for many years. The group will work with children and teach dance at 1:30 p.m.to 2 p.m. on the west side of the Field House. Under the direction of Laura Spicuzza, Dance to Evolve has attended numerous events and assisted with our classical music education program in 2012 when they taught children to dance to selected compositions that were later played as part of the classical music series. 
We hope to see you at one of these performances this weekend. For a complete list of activities and presenters visit the Wicker Park Advisory Council website. 
Related:
Crime Stats By District
Columnists