Crowds packed the 14th Police District Station to celebrate Halloween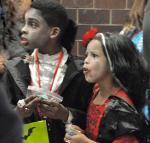 While many people may believe that it is not unusual to see "strange" people in a police station, more than a thousand visitors at Chicago's 14th Police District Station, 2150 N. California, Saturday afternoon would testify to not just strange but also weird, spooky and awe!" 
The first Halloween celebration along The 606 since it opened this June, the event was planned to be atop the Bloomingdale Trail and in Julia de Burgos and Churchill Parks. Many people were involved in the planning. The CAPS team led by Sergeant Reyes had Officer Chavez and Liz Rios at work on the extravaganza, while Bonnie Tawse worked on it for The Trust for Public Land.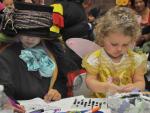 By last Friday afternoon, the weather reports warned that Mother Nature was going to significantly "water" the area. At the last minute, they decided to change the venue to the police station. 
No stranger to Halloween celebrations, the 14th once again proved to be a popular location. Retired in 2011, Sergeant Julio Velgara was the "father" of the Haunted House that he, a few other officers and many community volunteers spent hundreds of hours creating each year. But since then, the station has been sparse on Halloween festivities.
This new event drew in many different organizations and businesses. 
The Sheriff (better known locally as Commander Marc Buslik) was close to the entrance as people were lined up outside trying to get in the doors. There were tables for face painting, learning to make slim, cookie selecting, cookie decorating, popcorn, craft tables, coloring tables and much more. 
Tucked in a small area off the hallway toward the auditorium was a haven for live creatures. A very large bunny, a very small hedgehog, a snake, a tortoise and a very sweet goat, wearing a turtleneck sweater and diapers were some of the featured animals. 
Teaming with people between 3 and 5 p.m., the auditorium was quickly cleaned up so that the movie Beetlejuice could be shown. 
Despite the wet gray day, there were lots of happy Halloweeners heading home for more celebrating.
Through it all, the 14th District officers were manning the desk, answering the phone calls.
Related:
Crime Stats By District
Columnists