Heroes and Helpers at Target: Cops shop with kids
Four 14th District Chicago Police Department (CPD) CAPS Officers (a.k.a. heroes) had pencils and paper in hand as they shopped and calculated how much more each of 20 Moos Elementary School, 1711 N. California, students could spend in the Logan Square Target store, 2656 N Elston Ave., with the aid of Helpers (a.k.a. Target employees). 
For the last several years 14th District Caps officers have shopped with students prior to Christmas. The person behind the scene helping to link the kids, cops and store is Officer Miguel Cisneros, a CPD school resource in the 14th District, explains Moos Principal Karmine Asaf. 
"Our school has 90% of the families living below poverty, so it is not difficult to select those to be invited," explained Asaf. "He [Cisneros] is in our school regularly and knows the families. He works with my staff to make a list which is then given to me for approval." 
Each child had a $90 gift card with which to buy whatever they wanted. Many of the shoppers showed amazing generosity to their siblings while others were, at first, hesitant to buy anything.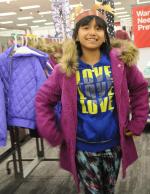 One big brother gave back some toys so his two sisters could get something they wanted. Another compassionate brother gave back four items so his younger brother could get a laptop. 
Two of three sisters did not engage in shopping in the toy aisles but their faces lit up with delight when they were able to buy some clothes. One mom asked Officer Cervantes to make sure her sons got warm jackets. 
Calculations were still going on in the checkout line as Target's Casey Shirrells helped out with a few extra discounts as Theresa Cahill rang up items and bagged the treasures.
Cahill also works in the 12th District as a crossing guard in Ukrainian Village where she formerly resided. 
Identified by paper antlers, the well behaved group of kids were treated with snacks after shopping then given a goodie bag before leaving with all their presents. 
While Target participates in donations for kids each year, the same stores are not selected. Target worked with the 14th in 2015 and now in 2017.
Related:
Crime Stats By District
Columnists