Smith Park stargazers were transported into space: The 606 is next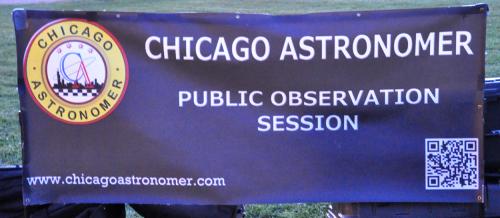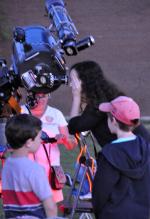 With Smith Park's, 2526 W. Grand Ave., lights off and large telescopes from the Chicago Astronomer's group, celestial enthusiasts of all ages were "transported" to Jupiter, Saturn, the moon and beyond on Saturday night. This coming Friday, July 14, star fans can join the Chicago Astronomer's group in Julia de Burgos Park. 
Urban star gazing
People say you can't see the stars in the City," said Joe Guzman, the group's founder and Chief Astronomer. "But not true, the universe is at your fingertips in the Heart of Chicago, you just have to have the right telescopes and the right astronomer." 
One of the other "right" astronomers Saturday was Tom Kirke, who lives in Jefferson Park and is a volunteer at the Planetarium. Kirke had his refractor telescope pointed at Jupiter. "It is the largest planet in the solar system and has 67 moons," he explained. 
"If the sun were to weigh one-thousand pounds, Jupiter would weigh one pound and everything else in the solar system would add up to one pound!" 
The National Aeronautics and Space Administration's (NASA) Galileo story provides even more facts about Jupiter. 
Telescopes
Guzman explained that the difference between his reflector and Kirke's refractor telescopes is the way the light bounces around and reaches the eye. 
Reflectors use a series of mirrors. It compresses the light path down in a sizable, manageable manner and is much bigger because it folds light back into itself. Refractors, on the other hand, have no mirrors and the tube is much longer. 
"There is no perfect telescope, it is all about one's preference and how much they want to spend," said Guzman. 
The 606
All astronomers and those just interested in the space beyond Earth can join in "For the Love of Stars" at  Julia de Burgos Park (between Albany and Whipple), 1805 N. Albany Ave., Fri., July 14, from 7:30 to 10:30 p.m. 
A partnership between the Chicago Park District and the Trust for Public Lands provides The 606 with resident astronomer, Guzman.
His group is on hand with their telescopes and stories the second Friday of each month at the Exelon Observatory, the west end of The 606 at Ridgeway Ave. 
Currently the iconic elevated site with its spiraling pathway is under construction thus Julia de Burgos is the site for the monthly star gazing events.
Related:
Crime Stats By District
Columnists