Spooky skaters had dinosaur running for his life in Smith Park
There were so many skaters at the Smith Park Annual Halloween Spooky Skating Party Friday night that even a dinosaur was seen fleeing from the field house, 2526 W Grand Ave.
He was in search of safety from roller bladers, scooters, cyclists and skaters circling the gym, faster than Indy 500 drivers. 
There was no end to fun for more than 300 Halloween celebrants from 4:30 until 8 p.m. who consumed innumerable bags of freshly popped corn and 80 pounds of candy. Children and adults enjoyed different craft projects in addition to skating.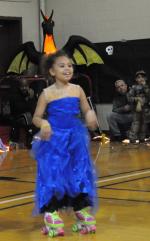 "It was heartwarming to see so many adults and children come out this year," says Frank Bogatitus, Park Staff.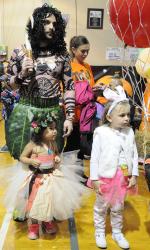 "It makes me feel extremely happy to see all the children smile and show off their Halloween costumes," says David Ramos, Smith Park Advisory Council (SPAC) President.  "The advisory council gave gift cards for first and second place in three age groups: five and under, six through eight and nine and up. 
"In the youngest group, Julian Hesidenz, 4, whose parents Mr. and Mrs. Kris Hesidenz created a Robot with LED lights wired through his outfit, won first prize. The second place winner went to two-year-old Elodie Lokken. His mother Bethany dressed him up as a hot air balloon. 
"The Vega family has won first place prize for the past three years, here at Smith," explained Ramos. "This year Nadia Vega, 8, was dressed as Cruella De Vil by her mom Veronica and was given first place in the six to eight group. Second  place to Mia Hernandez, also eight. Her mother Nely dressed her up as Princess Leia from Star Wars. 
"In the oldest group, two nine-year-olds took home the prizes. Shaun Koroluk, whose father Paulie dressed her up as a Chef Killer, won first prize. Evan, whose mother Sherri dressed him up as a Hershey Bar candy, received second place." 
One of the biggest attractions of the evening was the dinosaur. His height and l tail had many in awe. In the gym, the hordes of children appeared to be very delighted to chase him as he took laps around the room. 
"When I saw that costume online, I had to order it, though I knew I would never fit into it," said Bogatitus. His son, Lucas, was just the right fit. 
The event was sponsored by SPAC and the Chicago Park District. 
Related:
Crime Stats By District
Columnists