Thousands paraded around Logan Square's Illinois Centennial Monument celebrating Halloween
Thousands paraded around Logan Square's Illinois Centennial Monument Sunday night and it all started with baking cookies 13 years ago. 
"Friends wanted custom baked cookies for their children 13 years ago," says chef Jason Hammel. He is co-owner with his wife Lea Tshilda of LuLu Café, 2537 N Kedzie Ave. "This year we baked 7,000. 
"It has just grown since then and no one is really in charge. We have community partners and Ash Lott, a neighbor contacts the police for an escort. 
"It is my favorite diy (do it yourself) Halloween event and it makes me feel really good." 
It was definitely a "feel good" event for everyone made better by the wonderfully fun Mucca Pazza marching band. 
By 5 p.m., people were gathering on and around the monument at Milwaukee and Kedzie. Around 5:30 there were instrument sounds emitting from somewhere in the crowd. 

With the bell of the tuba sticking up from the milling crowd across from the Logan Square Auditorium at street level, it became increasingly certain that the band was assembling. In addition to their many horn and percussion instruments they featured a string event with a violinist and cellist.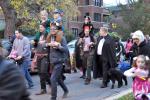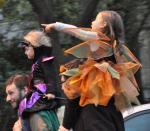 Escorted and trailed by Chicago Police Department's 14th District cars, the parade went on the street and sidewalk south of Milwaukee along the north side of the inner street of Kedzie Blvd., eventually crossing Kedzie and going down the south side of Kedzie.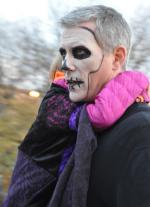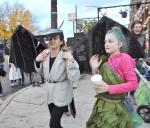 The paraders were heading to LuLu Café for a cookie and beverage. 
While intended to be a kids parade, there were adult humans and canines along with at least one black pig some of whom were in and out of costumes. 
Share your experiences below!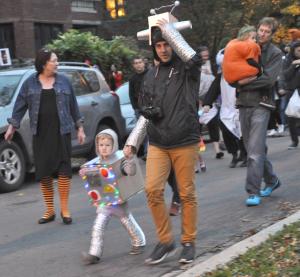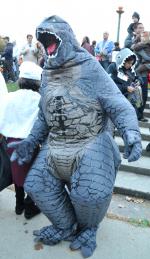 Related:
Crime Stats By District
Columnists