Two Logan Square Halloween events included creepy crawlies
Two Halloween events in Logan Square included some unusual non-humans. Liberty Bank not only had pony rides and a petting zoo but also Fred the boa, while Chicago Police Department's 14th District left their biggest multi-legged critter outside the festivities inside Logan Square Boys & Girls Club, 3228 W Palmer St.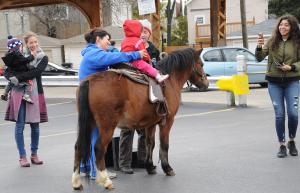 During the Family Fall Fest in the Liberty Bank parking lot, Fred, the yellow (albino) boa constrictor, checked out the crowd much to the delight of some and horror of others. Chris from Dave DiNaso's Traveling World of Reptiles generously offered everyone a chance to pet and "talk" to Fred.
Though it was a grey cold day on Saturday before Halloween, Liberty Bank had their outdoor event filled with several wondrous experiences. Miniature pumpkins were decorated at one table while face painting was done at another station. 
Music by The Dreamtree Shakers, with a fun beat, provided background sounds as some of the youngest celebrants took a ride on a pony and others met and petted goats, a pig, sheep and other farm animals. 
A 14th District patrol car in front of the Boys & Girls Club was partially covered by a mass of webbing apparently spun by the giant spider sitting on top of the vehicle. Some, approaching the site, circled far away from prolific web spinner. Fortunately no one who attended had arachnophobia. For more Spider facts vs. myth check this out. 
Inside, the events on the first and second floors were well attended by local young people. What was in short supply were police officers, unlike last year. Staff furlough times are established early in the year and officers are required to take them as planned. 
With the turnover in personnel in the District this year, the furloughs ended up being clustered around the holiday. With many volunteers available, officer scheduling did not impact the fun of the day.
Related:
Crime Stats By District
Columnists