Bring your attitude to the biggest local Halloween event -- Boo-Palooza in Wicker Park
Bring your Halloween attitude to Boo-Palooza in Wicker Park, 1425 N. Damen Ave, on Sat., Oct. 26. It begins at 10 a.m. and continues to 2 p.m. Presented by Wicker Park Advisory Council and Garden Club in collaboration with the Chicago Park District, admission is free. 
If you don't have a costume planned for you (not required) or your children (kids and dogs) then you may want to put your thinking caps on. The Children's Parade steps off at 11 a.m. and the dogs paw off at noon. 
In a parade or not, there is fun for all ages at Boo-Palooza. Pre-opening activities start at 9 a.m. at the West side of the Field House with the Magic Boat Puppet Show followed by Dance to Evolve at 9:45 a.m 
To pick a pumpkin from the Pumpkin Patch, you'll want to be near Damen and Wicker Park Ave. entrance promptly at 10 when the "gates open." 
The maze is amazing and the midway of games give some challenge for all. Then there is the find-the-needle-in-the-straw stack game, bobbing for apples and apples on a string, and dozens of activity and information tables. At the tables, children can learn to cook healthy food, view exciting comic books and play numerous games while you can learn about some of our community organizations. 
Check out Boo-Palooza 2012 and 2011 . For those of you who are dog lovers, check out the canine adventures from 2012 and 2011 too.
More than 150 volunteers will run the event and help you enjoy it. They are from Wicker Park Advisory Council, Wicker Park Garden Club, Mosaic Church, Missio Dei Chicago, Urban Encounter, Build On, JLC Done in a Day, Josephinum Academy, Northwestern Settlement & AmeriCorps Project YES! and neighborhood families 
Schedule of Events 
PARADES
11am - Children's Costume Parade and Best Costume Contest with Prizes Lead by Beth McNeill
12 Noon - Dog's Costume Parade and Best Costume Contest with Prizes
Parades begin at the Stage in the Soft Ball Field  
PERFORMANCES – West Side Field House
PERFORMANCE – Fountain Court
10am – A.N. Pritzker Student Dancers with Choreography by Chicago Danztheatre Ensemble
GHOST BINGO Inside at 12 Noon- 1pm
MEET - 1st Ward Moreno, 2nd Ward Fioretti, 32nd Ward Waguespack  
ON GOING Activities & Information Tables from 10am – 2pm or until supplies run out 
     Presented by schools, businesses, community groups, and City Wide organizations: 
•    A Midway of Games for All Ages
•    Bobbing for Apples
•    Cat & Mouse Game Store - Games to Play
•    Chess Wizards – Learn to Play Chess
•    David's Tea – Samples some Great Flavors
•    Doggie Style Pet Shop – Dog Games
•    Face Painting
•    Find the Needle in a Straw Stack
•    Maternal Child Health Advocacy Council
•    Navigate the Maze
•    Our Urban Times
•    Pumpkin Patch and Decorate Pumpkins with Easel Art Studio, JLC Done in a Day, Josephinum Academy, Build On
•    Saint Stanislaus Kosta School
•    The Kids' Table - Cooking for Children
•    Vigilante Comics - Enjoy the World of Comic Books
Produced with funding and support from: Chicago Park District, WPB SSA #33, WPB Chamber, WPAC, Christy Webber Landscapes, Christy Webber Farm and Garden Store, Iron Creek Organic Farm, Frank Farm, Nichols Farm/Orchard, Pint Pub, Our Urban Times and all those volunteering and those presenting activities and information tables. For more information email or call 773-278-9076.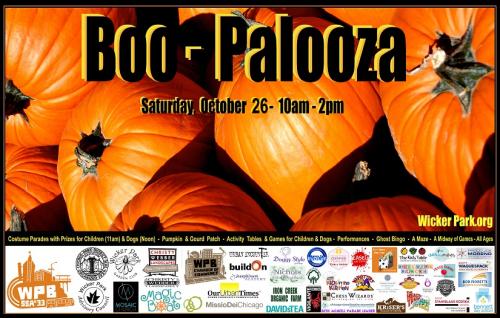 Related:
Crime Stats By District
Columnists