Rewards for Turn In A Gun Saturday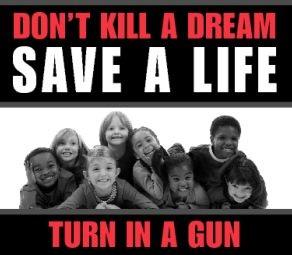 People who "Turn In A Gun" may receive as much as $100 gift card on Sat., Oct. 22, at New Life Covenant Church, 1665 N. Mozart between 10 a.m. and 2 p.m. 
Part of a city-wide Chicago Police Department (CPD) gun buy-back program that has gone on for years, this event, hosted at New Life, is the first in this area, explained CAPS Officer Regnier, 14th District. 
Those turning in a gun will receive $100 gift card. Those turning in a bb-gun, air-gun and gun replica (not toys) will receive $10 gift card. 
Q and A
Will anyone ask how or where I got the gun?
No, this is a "No questions asked" gun turn in. The most important thing is that the gun is off the street.
Where can I use the gift card?
At any of the 23 million locations that gift cards are accepted, except at gun shops.
How many guns can I turn in?
There is not limit. For each gun a gift card will be given.
What happens to the guns after I turn them in?
All guns are destroyed and never will be returned to the streets.
What if I can't make it between 10 a.m. and 2 p.m.?
You can always turn in a gun to a police station or call 911. However gift cards are only given at these events.
Will I get any money for my bullets, magazines or holsters?
CPD will gladly and safely dispose of any and all ammunition and bullets. However, gift cards are only given for guns.
Can I turn in part of a gun or gun parts for a gift card?
CPD will take any gun parts but gift cards are only given for whole guns.
For more information contact the CAPS Implementation Office at 312.745.5900.
Related:
Crime Stats By District
Columnists