Spoiler alert: Mr. Dave Music headlines all six Tuesdays at the Triangle starting today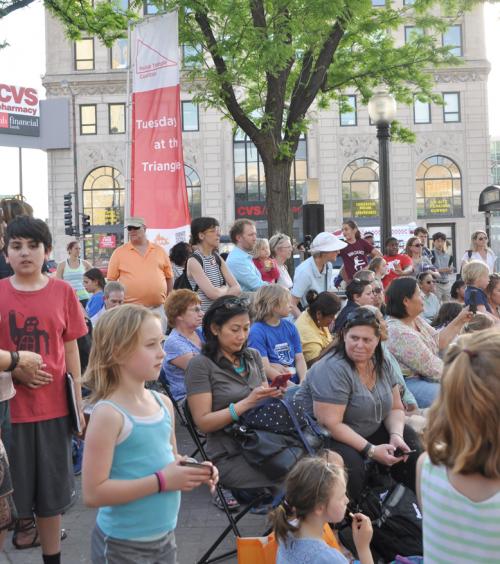 The combo of entertainment and vendors at the Tuesdays at the Triangle returns to the CTA transportation hub at Milwaukee, Division and Ashland Avenues on June 4, from 4 to 8 p.m., for the seventh season, produced by the Polish Triangle Coalition (PTC). 
Starring each of the six weeks from 4 to 5:45 p.m., Mr. Dave Music who will open the evening's entertainment followed by a different act from 6 to 8 p.m. 
Adding to the fun for all ages will be vendors with merchandise as well as tasty offerings of food and beverages for the entire evening, a tradition for the season. 
Each week in the 2019 season's schedule kid-oriented programming will be followed by adult, but kid friendly, oriented entertainment:
June 4th - Mr. Dave Music 4 - 5:45 p.m., Kielbasa & Kimchi 6 - 8 p.m. 
June 11th - Mr. Dave Music 4 - 5:45 p.m., James Fraser 6 - 8 p.m. 
June 18th - Mr. Dave Music 4 - 5:45 p.m., Rachel Jenn Farr 6 - 8 p.m. 
June 25th - Mr. Dave Music 4 - 5:45 p.m., Ryan Burns 6 - 8 p.m. 
July 2nd - Mr. Dave Music 4 - 5:45 p.m.,  James Fraser 6 - 8 p.m. 
July 9th - Mr. Dave Music 4 - 5:45 p.m.,  Kielbasa & Kimchi 6 - 8 p.m. 
This year's vendor list looks like:
Community Table Guests will be 2nd Ward Alderman Brian Hopkins and I-Cash from Illinois Treasurer Michael W. Frerichs. 
Two of the season's sponsors will be on hand during the series: Wintrust Bank on June 18th and Wicker Park Bucktown Special Service Area #33 on June 25th. The full list of sponsors is shown below. 
"A big thanks to all who have made this season financially possible," said Mieko Yoshida, PTC President. 
"It would be wonderful if everyone who comes to the Triangle gives a personal thanks to the entertainers, the vendors and the community members who make all of this work possible," says Alice Howe, this year's event manager.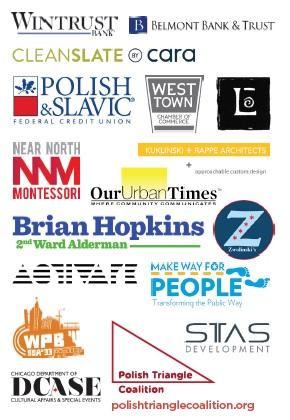 What efforts are going on  at the Triangle?
At the convergence of four neighborhoods, Wicker Park, East Village, Pulaski Park and Noble Square, meet, the Polish Triangle Coalition continues to push forward to realize turning a transportation pass-thru into a people place destination respite. 
To provide more time for its mission, which began in 2010, Coalition members chose to scale back this year's entertainment schedule, allowing for more time to engage community and public officials in the communities' vision.
To see a conceptual possibility for this public space owned by the Chicago Department of Transportation, view concept and experience the 360 design created by Bugaj Architects. 
Everyone is invited to join in on the efforts of the PTC, just  send them your contact info. Monthly meetings start in August.
Related:
Crime Stats By District
Columnists