Contaminated sausage recall: Check your refrigerator and freezer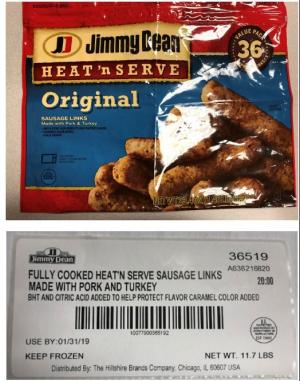 A recall of approximately 29,028 pounds of frozen, ready-to-eat (RTE) pork and poultry sausage links labeled as Jimmy Dean Heat 'n Serve may be contaminated with pieces of metal, according to the U.S. Department of Agriculture's Food Safety and Inspection Service (FSIS). 
The product is labeled as:
23.4-oz. pouches of "Jimmy Dean HEAT 'n SERVE Original SAUSAGE LINKS Made with Pork & Turkey" with a Use By date of Jan. 31, 19. The product bears case code A6382168, with a time stamp range of 11:58 through 01:49. 
Check your freezers and make sure you have none of this product. If you do have any packages of these sausages, throw them away or return them to the place of purchase. 
Though produced and packaged on Aug. 4, the problem was not discovered until Dec. 10, when FSIS received notification that producers CTI Foods LLC, Owingsville, Ky, received five consumer complaints.
Related:
Crime Stats By District
Columnists