Food Recall: Pork Sausage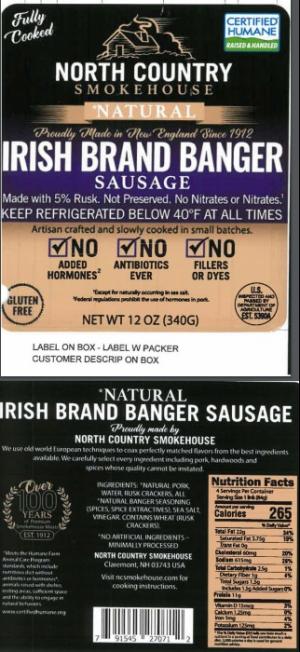 Approximately 2,601 pounds of ready-to-eat North Country Smokehouse Natural Irish Brand Banger Sausage is being recalled due to misbranding, according to the U.S. Department of Agriculture's Food Safety and Inspection Service (FSIS).
The product has a gluten free claim represented on the front of the label; however, the product contains gluten in the form of wheat. Wheat, which is an allergen, is also listed in the product's list of ingredients. 
Produced on Feb. 13, the sausage is packaged in 12-oz. vacuum-sealed packages containing 4 pieces with a use by date of Apr. 15. 
Inside the USDA mark of inspection, the establishment number is "EST. 5390A." 
FSIS is concerned that some product may be in consumers' refrigerators or freezers or both. Consumers who have purchased these products are urged not to consume them. They should be thrown away or returned to the place of purchase.
Related:
Crime Stats By District
Columnists