Health Alert: Beef recall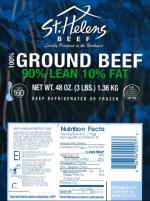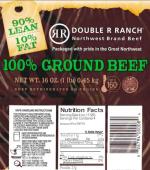 A list of ground beef products are being recalled due to possible foreign matter contamination, according to Mar. 2 warning from the Food Safety and Inspection Service (FSIS).
Washington Beef, LLC, Toppenish, WA, is recalling approximately 30,260 pounds of ground beef chubs products. They are packaged in one and three pound packages as well as bulk. 
Shipped nationwide, they can be identified by the USDA mark of inspection. There is "EST. 235" within that mark. 
FSIS is concerned that some product may be frozen and in consumers' freezers. Consumers who have purchased these products are urged not to consume them. These products should be thrown away or returned to the place of purchase.
 Washington Beef Product list -- 3/2/2019
15502 DOUBLE R RANCH 100% GROUND BEEF 1 LB. 90% lean/10% fat 
15503 DOUBLE R RANCH 100% GROUND BEEF 1 LB. 85% lean/15% fat
15602 ST. HELENS 100% GROUND BEEF 1 LB. 90% lean/10 % fat 
15603 ST. HELENS 100% GROUND BEEF 1 LB. 85% lean/15% fat 
15604 ST. HELENS 100% GROUND BEEF 1 LB. 80% lean/20% fat 
15606 ST. HELENS 100% GROUND BEEF 3 LB. 90% lean/10% fat 
15607 ST. HELENS 100% GROUND BEEF 3 LB. 85% lean/15% fat 
15608 ST. HELENS 100% GROUND BEEF 3 LB. 80% lean/20% fat 
15609 ST. HELENS 100% GROUND BEEF 3 LB. 71% lean/27% fat 
98505 SRF AMERICAN WAGYU BEEF FINE GROUND BEEF CHUBS 
98506 BEEF BONELESS GROUND CHUCK BLEND SMOKED 
Related:
Crime Stats By District
Columnists