How to avoid killing or maiming your guests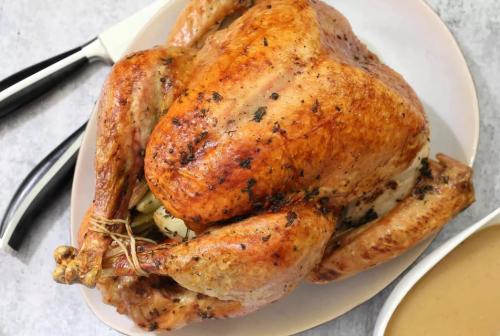 Both the United States Department of Agriculture (USDA) and the Illinois State Fire Marshal are in hopes that you will not bring harm to you, your family and/or other guests over the Thanksgiving holiday. In fact, these tips are good for all year long! They focus their concern on food and its preparation as well as its cooking. 
Food
While there is much discussion about food poisoning around the Thanksgiving turkey, many foods can be the source of such illness. Check this table for safety by type of food regardless of time of year.
According to the USDA's Deputy Under Secretary for Food Safety, Dr. Mindy Brashears, "With large meals come food safety risks, so when I prepare my family's Thanksgiving dinner, I keep food safety in the forefront. "Washing hands properly, keeping the raw turkey away from other ingredients, cooking turkey to a safe internal temperature of 165°F, and promptly refrigerating all of our leftovers within 2 hours after mealtime are all ways we keep our meal safe." 
These are the tips from USDA to ensure a food safe meal: 
Tip 1: Wash your hands
The first step to safe food preparation is always handwashing. Handwashing reduces the risk of foodborne illness and is especially important after handling raw meat, poultry, seafood and egg products. In a recent USDA study, participants shockingly failed to wash their hands sufficiently nearly 100 percent of the time. Follow these five simple steps to wash your hands properly and keep your loved ones safe:
Wet your hands with clean, running water, turn off the tap, and apply soap.
Lather your hands by rubbing them together with the soap. Be sure to lather the backs of your hands, between your fingers, and under your nails.
Scrub your hands for at least 20 seconds. Need a timer? Hum the "Happy Birthday" song from beginning to end twice.Rinse your hands well under clean, running water.
Dry your hands using a clean towel.
Tip 2: Prevent cross-contamination
Turkeys can be large and hard to handle, which makes the risk of cross-contamination higher during Thanksgiving meal preparation. Turkeys may contain Salmonella and Campylobacter, common pathogens that can cause foodborne illness. Our recent study found that 60% of sinks were contaminated after handling raw poultry in the sink, so if you handle your turkey in the sink, be sure to fully clean and sanitize your sink and other surfaces after handling your raw turkey and before prepping any other Thanksgiving sides and dishes
To clean surfaces, wash them with soap and warm water to remove dirt and debris. Then use a solution of chlorine bleach or an alcohol-based solution to sanitize. Sanitizing will reduce the number of bacteria present on a surface and ultimately leave your sinks, counters, and other surfaces safe from harmful bacteria.
Tip 3: Cook the turkey to 165°F
The only way to kill bacteria is to fully cook your turkey and any other dishes with raw meat, poultry, or egg products. They must be cooked to a safe internal temperature as measured by a food thermometer. To properly take the internal temperature of your turkey, test it in three areas — the thickest part of the breast, the innermost part of the wing, and the innermost part of the thigh. Once all three locations reach 165°F, the bird is safe to eat. If one of those locations does not register at 165°F, then continue cooking until all three locations reach the correct internal temperature.
Tip 4: Follow the two-hour rule
It's tempting to go back for seconds (or even thirds), but perishable foods are only safe out on the table or buffet for two hours. After two hours, food will be in the Danger Zone, temperatures between 40-140°F, where bacteria can rapidly multiply and cause the food to become unsafe. Make sure all leftovers are placed in the refrigerator within two hours to safely enjoy them later. Put them in small, shallow containers. If foods have been left out for more than two hours, they should be discarded.
Tip 5: Ask your questions!
If you have any questions this Thanksgiving, you can call the USDA Meat and Poultry Hotline at 1-888-MPHotline (888.674.6854) to talk to a food safety expert or chat live at ask.usda.gov from 10 a.m. to 6 p.m. Eastern Time, Monday through Friday. If you need help on Thanksgiving Day, the Meat and Poultry Hotline is available from 8 a.m. to 2 p.m. Eastern Time. 
Fire
An annual average of 166,100 home fires revolve around cooking equipment, according to National Fire Protection Association (NFPA) and National Fire Incident Reporting System (NFIRS) data. With four times the average number, Thanksgiving is the leading day for home fires involving cooking equipment. 
Here are some of their indoor cooking tips:
Be on alert! If you are sleepy or have consumed alcohol, don't use the stove or stovetop.
Stay in the kitchen while you are frying, grilling, boiling, or broiling food.
If you are simmering, baking, or roasting food, check it regularly, remain in the kitchen while food is cooking, and use a timer to remind you that you are cooking.
Keep anything that can catch fire — oven mitts, wooden utensils, food packaging, towels or curtains — away from your stovetop.
If an indoor fire occurs:
Just get out! When you leave, close the door behind you to help contain the fire.
Call 9-1-1 or the local emergency number after you leave.
If you try to fight the fire, be sure others are getting out and you have a clear way out.
Keep a lid nearby when you're cooking to smother small grease fires. Smother the fire by sliding the lid over the pan and turn off the stovetop. Leave the pan covered until it is completely cooled.
For an oven fire, turn off the heat and keep the door closed
Cooking with oil indoors and outdoors
Here are some basic how-to-cook with oil:
Always stay in the kitchen when frying on the stovetop.
Keep an eye on what you fry. If you see wisps of smoke or the oil smells, immediately turn off the burner and/or carefully remove the pan from the burner. Smoke is a danger sign that the oil is too hot.
Heat the oil slowly to the temperature you need for frying or sautéing.
Add food gently to the pot or pan so the oil does not splatter.
Always cook with a lid beside your pan. If you have a fire, slide the lid over the pan and turn off the burner. Do not remove the cover because the fire could start again. Let the pan cool for a long time. Never throw water or use a fire extinguisher on the fire.
If the fire does not go out or you don't feel comfortable sliding a lid over the pan, get everyone out of your home. Call the fire department from outside.
While many people believe you have never tasted a better turkey than a fried one, safety officials stress deep fryers are dangerous. The following tips are to make the experience a safe one for those frying is king.
Five dangers of deep frying a turkey are:
Units can easily tip over, spilling hot cooking oil over a large area.

An overfilled cooking pot or partially frozen turkey will cause cooking oil to spill when the turkey is inserted.

A small amount of cooking oil coming into contact with the burner can cause a large fire.

Without thermostat controls, deep fryers have the potential to overheat the oil to the point of combustion.

The sides of the cooking pot, lid and pot handles can get dangerously hot, creating severe burn hazards.
Photo:

The Spruce / Diana Rattray
Video: NFPA's Fire Applied Research Division
Related:
Crime Stats By District
Columnists