Logan Square's Outdoor Farmers Market put on hold until end of May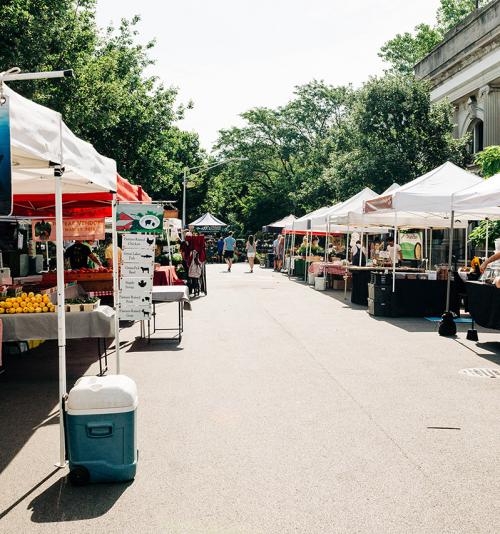 The 2020 outdoor Logan Square Farmers Market (LSFM) has moved its 16th season opening from May 10 to May 30, in co-operation with the City of Chicago and its Department of Cultural Affairs and Special Events as well as the Chicago Department of Public Health. 
With their close to 70 rotating vendors, many are virtually open for business with distribution at various locations. Until the outdoor market opens, the list below provides links to shop virtually. 
An independent versus City of Chicago Farmers Market, LSFM has been a major source of revenue for the Chamber. Operating in a different more health focused environment is going to drastically affect their income. Fewer vendors each week because of social distancing is going to decrease their income by 50 to 70%. Materials and possible crowd control staffing will be increasing their costs. 
Jessica Wobbekind, Logan Square Chamber's Executive Director and Rosie Fitz, LSFM Manager, are reaching out to the community for assistance. 
"We are asking the community members to make a donation to sustain the market for another year," explains Wobbekind. 
"Our goal is to raise $10,000 before our opening season kicks off. Please consider a gift of $10, $25 or $50 today," she asks. 
Market experience will be different
The market will definitely look different. Using the COVID-19 Illinois restrictions previously laid out, they have addressed social distancing, minimizing the number of people entering the market area at the same time as well as encouraging shoppers to come prepared to shop efficiently, to name a few. 
Here are the current list of shopper guidelines:
All shoppers must strictly follow these safety rules to protect all:

Maintain 6 foot distance between other shoppers and vendors. Guides will be posted on the ground
Wear a mask or face covering (insert link on how to use safely)
Be symptom free - DO NOT come to market if you are sick.
Plan to wait in line to enter (even if you pre-ordered).
No pets allowed.

Market hours will be 10 a.m. to 3 p.m. Market will be open at 9 a.m. for the seniors, immuno-compromised folks, pregnant parents and all those at elevated risk for COVID-19.

Traffic through the market will be strictly one-way. Please enter the market at the intersection of Logan Blvd & Milwaukee Ave. You MUST check in at the INFO booth prior to entering the Market. If you wish to go back to a vendor near the beginning, you MUST exit and re-enter the Market and re-sanitize.

Vendor Listing/Pre-Order/Pick-Up

Market map will be posted weekly. List is subject to change.
To reduce browsing time, please prepare a shopping list in advance, by reviewing our vendor and offerings.
Drive-thru pick up unavailable for opening day. More TBD.

Shopping Time

Please limit the shopping party to 1 per household, consider buying items for your neighbors.
Market shopping time should be no longer than 5 minutes per vendor. To encourage the maximum number of shoppers in a day, your total shopping time should be no longer than 30 minutes. Please be mindful other shoppers are waiting.

Customers WILL NOT handle any food, vendor staff will hand you the item(s) you request.
No preparation or consumption of food onsite.
No compost collection or drop off.
"We also realize that our current model excludes a portion of our community. Currently, the State of Illinois is not approved by the USDA to process SNAP/EBT online. We will continue to advocate for improvements that allow for access to all," says Fitz. 
"Our community farmers have been the focus of our efforts," says Fitz. "They rely on these markets for direct sales as the crops are ready to go to market.
"We look forward to seeing you soon and in the meantime please enjoy the virtual market."
FARMERS
 
 
online store/ delivery?
CSA/CSF?
available at Dill Pickle Coop?
 
*denotes certified organic
 
items available
 
LSFM CSA guide
or other site
 
 
 
 
 
 
 
 
American Pride MicroFarm
 
microgreens
weekly deliveries, please call
 
 
 
Bee in Beezyness with God
 
honey, candles
 
 
connecting
 
 
meat
various pick up sites available
yes
 
 
Chicago Honey Coop*
 
honey
yes
n/a
connecting
 
Earth First Farms*
 
organic fruit & Produce
 
yes
 
 
The Flower Garden
 
cut flowers
 
 
 
Frillman Farms
 
organic produce
order online, pick up at Daisies
yes- contact for more
 
 
Geneva Lakes Produce LLC
 
produce
 
yes
 
 
Gorman Fresh Produce
 
produce
 
 
 
 
gretta's goat milk soap
 
soap, eggs
yes
 
yes + Wolfbait
 
Growing Home*
 
produce
 
yes
yes
 
Iron Creek Organic Farm*
 
organic produce
YES!
yes
 
 
J2K Capraio LLC
 
cheese
 
 
connecting
 
Jacobson Family Farm
 
microgreens, produce
yes
 
 
Jake's Country Meats
 
meats
yes
 
Lyons Fruit farm
 
fruit
 
 
 
 
Mint Creek Farm*
 
meat/eggs
yes
yes
yes
 
Nodding Onion Farm*
 
produce
 
yes
yes
 
Noffke Family Farm
 
fruit
 
 
 
 
Oriana's Orchard
 
watercress, vinegar

Pick up in Skokie. Call Oriana at (847)712-9175 to call to order $10/lb, in box of 5lb minimum

 
 
 
Petals Farm
 
cut flowers
yes
 
 
 
Piedt's Farm
 
fruit, produce
 
 
 
 
Pleasant Hill Produce
 
produce
 
 
 
 
River Valley Ranch
 
mushrooms, salsa, more
Order online for pick up
 
yes
 
Roedger Bros Blueberries
 
blueberries
pick up site available
 
 
 
Sitka Salmon Shares
 
seafood
yes
yes
yes
 
Tomato Mountain Farms*
 
organic produce, salsa
not yet
yes
yes
 
Willow Garlic Growers
 
garlic!
 
 
 
 
 
 
 
 
 
 
 
PROCESSORS/BAKERIES
 
 
 
 
 
 
Abbey Brown Soap
 
soap, body products
yes
 
 
 
BOT Bakery
 
gluten free, vegan baked goods
yes
 
yes
 
Black Cat Kitchen
 
specialty food catering
 
 
 
 
Coop Sauce
 
hot sauce
yes
 
yes
 
Central Pickling
 
pickled vegetables
yes
 
yes
 
The Chick and the Pea
 
hummus
 
 
 
 
City Press Juice*
 
cold pressed juice
pick up at various locations
 
yes
 
Feed Your Head LLC
 
vegan
yes
 

yes + FoodSmart

 
Golden Rise Bakery
 
bakery
 
 
 
 
Hungry By Nature
 
GF-free granola
yes
 
 
 
Ipsento Coffee
 
coffee
yes
 
yes
 
Jo Snow Syrups
 
syrup
yes
 
at Wolfbait
 
Karl's Craft Soup
 
soup
 
 

Dill Pickle, Sugar Beet Coop & Green Grocer

 
Katherine Anne Confections
 
chocolate
yes
 
connecting
 
La Boulangerie
 
bakery
yes
 
 
 
Lemaster Family Kitchen
 
spice blends
yes
 

yes & at Wolfbait

 
Letizia's Bakery
 
baked goods
yes
 
 
 
Long Table Pancakes
 
pancake mix
yes
 
connecting
 
Middle Brow Bungalow
 
bread, beer, pizza
yes
yes
yes
 
Mindful Baking
 
gluten free, vegan
yes
 
yes
 
Montelimar Bread Co
 
baked goods
 
 
yes
 
Mushyface Cookie Co.
 
dog treats
yes
 
 
 
New Wave Coffee
 
coffee
open for pick up?
 
 
 
NutMeg's Spreads
 
nut butters
yes
 

yes + Olivia's Market

 
Pear Tree Preserves
 
preserves
 
 
connecting
 
Phoenix Bean
 
gmo-free soy tofu
pick up, cash only
 

yes + Foodsmart

 
Puna Chocolate Company
 
chocolate
yes
 
connecting
 
Recette
 
caneles
 
 
connecting
 
SenTeamental Moods
 
tea blends
yes
 
Sheekar Delights
 
baklava
yes
 
 
 
Stamper Cheese Company
 
cheese
yes
 
connecting
 
Twisted Olive LLC
 
olive oil, balsamic vingear
yes
 
connecting
 
Underground Meats
 
dry cured salami
yes
 
yes
 
 
soap
yes
 

Wolfbait & Potash on State St

 
 
ginger beer
yes
 
connecting
 
Yoberri Gourmet
 
frozen yogurt
takeout/pickup/delivery
 
 
 
 
 
 
 
 
 
 
Related:
Crime Stats By District
Columnists