Citizen scientists wanted to practice phenology on The 606 and impressions of top volunteer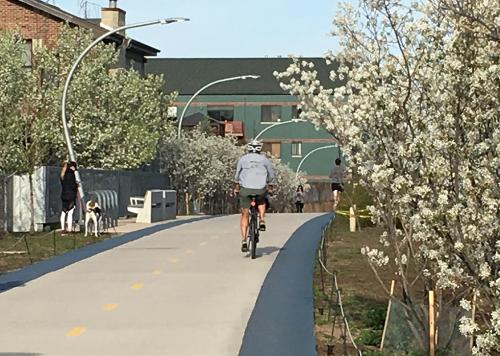 In its ongoing collecting of data to show the effects of climate on the plantings (phenology) along The 606, the Trust for Public Land (TPL) is inviting people to volunteer to be part of this year's collection process. 
Last year's most observant volunteer was Jim Angrabright, an Our Urban Times writer. He tracked more than 30 different plants, making 13,000 observations! He shares his experience and thoughts about his service experience on The 606. 
Angrabright's assignment was to observe the seasonal changes of the Amelanchier x grandiflora Autumn Brilliance aka apple serviceberry  and the Syringa x chinensis Red Rothomagensis aka Chinese lilac on the 606 trail. 
He says that he has three impressions:
(1) There's something incongruous - almost surreal - seeing mostly native trees, shrubs and plants in the very unnatural setting of the 606 trail. 
Anyone who has tried to grow flowers on their rooftop deck has an inkling of what a challenge it would be to grow a forest and a meadow along an exposed, 2.7 mile long narrow path 20 feet above level ground. 
One of my first observations was how different the weather is at ground level versus being on the trail and how inappropriately I was dressed for it. Note to self: dress cooler in the summer and warmer in the winter and don't expect much in the way of shelter when it rains.  
(2) Not sure exactly when, but somewhere along the way, I stopped referring to the serviceberries and lilacs as 'the' plants and started referring to them as 'my' plants. 
(3) Although there's an app for entering the data in the field, my phone is too small, my thumbs are too big and my eyesight is too poor to make much use of it. So I created some custom data sheets. 
I can be seen on the trail entering my observations with pen and clipboard. This makes me look very official. Since I usually make my observations around midday, as opposed to early morning and evenings when people are rushing through their exercise routines or rushing to and from work, I run into a more relaxed crowd making use of the trail. And, if I'm wearing my accessible face  (as opposed to my hunkered down I'm working face), I often get stopped and engaged in conversation. Of course they want to know what I'm doing. 
Following that, they usually either have a suggestion for the trail (speed limit signs for the bikers) or want to know the name of a particular plant (redbubs are a big draw). I get around to asking where they're from and usually half are, like me, from the nearby 'hood'. Others as you'd expect are from neighborhoods farther afield but surprisingly a number of people come from the 'burbs and even from out of town. Although they are a minuscule number compared to the 52 million tourists that visit our town, the 606 is definitely a destination for out of towners. 
The ideal volunteer loves to walk outdoors in all seasons along The 606 regularly and collect and share information about the plants along the trail. 
Expectations for phenology volunteers:
Register for and attend one training workshop February 24 or March 3
Conduct weekly plant observations of a section of The 606 from March through November, 2018 –roughly one-two hours /week time commitment
Record observations using USA-National Phenology Network/ Nature's Notebookprotocols and data sheets—requires access to a computer with internet connection
Participate in volunteer check-ins and share feedback to help us grow the program. 
Workshops
February 24 at the Bucktown Wicker Park Library
March at the Trust for Public Land Field Office 
Photo sources: Top photo: Jean Linsner, *Jim Angrabright
Related:
Crime Stats By District
Columnists