Homage to the Ginkgo Biloba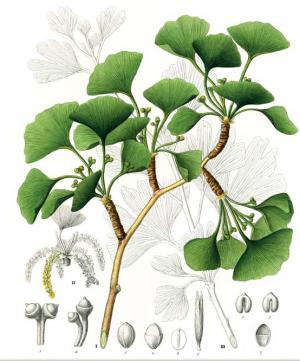 The Ginkgo Biloba, chosen as the tree of the year for the Annual Bucktown Tree and Garden Walk July 9 and 10, was fairly well known from its fossils found around the world. The ancient tree's beautiful fan-shaped leaves made it distinctive in the coal veins it was deposited in.
In the late 1600's Europeans discovered (in the same way Columbus "discovered" America) a curious tree growing in temple courtyards in China where it had been cultivated for 1500 years.  (The Chinese have written for longer than that and keep records of everything.) The tree is used for food, medicine and shade and is dioecious (That is, each tree is either male or female. You've heard of this concept?)
About ten years ago I started working at Taft High School in Chicago. Taft was re-vamping itself in various ways and I got roped into helping in one strange little way: Taft had (who knew?) an abandoned, virtually invisible courtyard. It had no connection to the outside. Someone in the Science Department heard I was something of a plant person and asked if I could walk a proto-ecology/garden group thru the courtyard to tell them what was what.They opened the doors to the secret garden and I went in with them.
Amazing! Totally overgrown and I estimate, from the size of the wind-planted weed trees, no visitors had entered for at least thirty years. The interior windows of the three floors of  rooms facing the courtyard had Venetian blinds which were inside glass panes. The blinds had frozen shut, a technological glitch they were subject to. So besides unvisited, the garden was invisible.
Someone in years past had done some interesting plantings: there were good-sized ornamental weeping cherry trees, some flowering shrubs, viburnums I think, wild geraniums and several kinds of fancy healthy evergreens. But the Queen of the place was a magnificent gingko tree which towered over the fifty foot surrounding walls. But, of course, there were weeds and weeds and...
As I led the group thru the large irregularly shaped yard I had them mark the trees-of-heaven and mulberries with ribbon, since they were removable along with what were weeds and what wild flowers (and some things in the middle).  In a far corner I pointed out an area in a windowless cul-de-sac that would be perfect for their proposed compost heap, a high school generates lots of compost! There was even a very large abandoned rusted piece of machinery looking like a brutalist's modern sculpture which I told them to keep if they removed the pipe which ran into a nearby art room. I told the art teacher, a friend of mine, that they were taking out that odd pipe and I banged it for emphasis. A mummified pigeon fell out. "Good idea," my friend said.
Over several years the new club cleared weeds, mulched paths, put in benches and more flowers. The shades were repaired and insiders saw actual scenery..until last week. I was in the attendance office, looked out their window and said, "Why so much sun?" The answer: the gingko was gone. Cut down because it was a female and had "smelly" fruit and no one wanted to use the benches near it. No one thought (or remembered since I HAD told them) to rake the pods into the compost. Any fruit-bearing tree has smelly leftovers if they rot on the ground. R.I.P. Gingko Biloba. You'll be remembered long after your executioners' laziness and irreverence are forgotten.
Gardeners today generally plant only male trees since they are mainly only used as ornamentals. They have the added advantage to the rake-weary gardener of having their leaves fall off all on the same day.  (Practically as we go to press we've heard from a plantsman friend in Sauganash, the Chicago neighborhood, where there is a large stand of old female gingkos. They have no problem with the fruit because near-by Chinese-Americans descend on the tree-owners asking to harvest the nuts which are major bucks at Chinese stores - $50 a pound is not unheard of.)
Sam Marts and Janet Mrowka spearheaded the effort to add trees to the Bucktown Garden Walk last year and honored the Catalpa tree. The 2011 Bucktown Tree and Garden Walk Sat. and Sun., July 9 and 10, runs from 11 a.m. to 5 p.m. each day. The Welcome Tables are at Club Lucky, 1824 W.Wabansia. Suggested donation of $5 includes maps and unlimited free trolley rides. For more info check their website.
Related:
Crime Stats By District
Columnists