Logan Square's Mike Nowak hosted Wicker Park gardeners on WCPT radio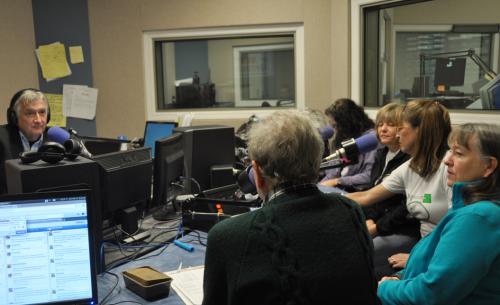 The compact studio of Chicago Progressive Talk radio (WCPT AM/FM) was filled during Mike Nowak's gardening and environment morning show on Sun., Feb. 3. As the snow was following outside the conversation inside focused on starting plants from seed. Guests were Richard Tilley (Our Urban Times' English Gardener) and Denise Browning from the Wicker Park Garden Club and Carol Niec and Kerrie Rosenthal from The SeedKeeper Company.
To learn the tips and tricks delivered by this knowledge fun loving group of gardeners, check out the podcast of the show.
A 12-year resident of Logan Square resident, Mike is a Chicago radio veteran, which included 10 years on-air at WGN starting in 1997. He was taking a master garden class and Kathy O'Malley (of Kathy and Judy) thought a gardening show would be a great thing and "Let's Talk Gardening" was born. She moved on after two years and he continued on WGN, solo, until 2008.
"You might say that in my career I am in a search for the bottom," he says laughing. (Mike is a funny guy.) "I went from the number one rated station to the 35th!" But there is more to him than radio.
Before going on-air, Mike was an audio engineer and a professional actor. In fact he ran a theater before he had a "mid course correction," as he puts it. His radio show is just part of what he does as a free lancer.
He brokers his radio show, meaning that the show is his product and he purchases time from the station, sells advertising, plans and produces the show. In addition he is a columnist for Chicagoland Gardening and does a mix of other projects.
The center of his professional life, the radio show brings all his experience and skills together. "I like to bring in good people and I know how to ask good questions. While we focus on gardening and the environment, guests and topics are varied, which makes it more fun and I learn too," he explains.
"Being on WCPT gives me more latitude then on a bigger station that has sets of rules about expressing views.  "A lot of gardening shows bring in the big industry gurus. I don't like some current people with money who are into chemicals which are damaging our planet.
"That is not great for my bottom line, but being a small business guy in the 21st Century, I try to teach people how to be kinder to the planet. With humor not preaching, we have a forum to make a case and hope listeners are won over by the case."
The Mike Nowak Show has evolved into a merry band of gardening and environment conscious advocates. Aside from Mike, Sarah Batka and Lisa Albrecht are in the studio on Facebook and Twitter during the live show, getting comments from all around the world. (The show streams live.) Rob Kartholl is the volunteer man-for-all-seasons-and-tasks and the phone screening technician is Dennis Schetter.
Sarah is the coordinator for Chicago Master Gardeners and is the volunteer tweeter during the show. While Lisa is on the Board of Illinois Solar Energy Association and is the Facebook expert.
The Mike Nowak Show can be heard weekly on Sunday morning from 9 to 11 a.m., WCPT 820AM and 92.5FM, 92.7FM, and 99.9FM. Aired programs can be downloaded from his website.
Related:
Crime Stats By District
Columnists