Wicker Park Garden Club begins its 11th annual Landscape Design Lectures with Christy Webber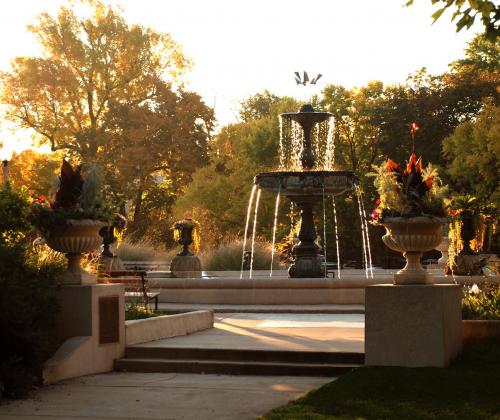 Christy Webber opens Wicker Park Garden Club's (WPGC) 11th season of the Landscape Design Series next Monday, Oct. 8, from 7 to 8:30 p.m. in the Wicker Park Field House, 1425 N. Damen. 
Christy will lecture on Sustainable Landscapes - Maintaining Your Landscape in High Heat and Drought. This is an appropriate topic for the Chicago audience, following one of the hottest summers on record with drought like condition prevailing into early October. Not knowing what to do with the endless heat and drought, people became exhausted trying to keep up with watering. Many watered too much, killing their shrubs and perennials.
Audiences love the dry, cool, intelligent humor that Christy brings to her lectures. One lecture-goer said "you know, I just kept laughing and had a great time – but, you know – she teaches us so much through her outrageous humor and by telling us about her life experiences – a great time was had by all."
Webber is the president and owner of Christy Webber Landscapes and is well known in the Wicker Park Bucktown neighborhood where she began her business by mowing lawns in 1988. Her website notes: "Today, Christy Webber Landscapes has over 250 employees and an impressive fleet of trucks and equipment. Christy is honored to maintain some of the most prestigious Chicago landmarks, such as Millennium Park and O'Hare and Midway airports. Her company's recent landscape construction projects include Kennedy King College, Millennium Park and McCormick Place West. In addition, Christy Webber Landscapes continues to serve hundreds of residential clients, some of which have been with Christy since her small beginnings."
The Fall Landscape Season continues in November with Scott Mehaffey of Sage Vertical Gardens lecturing on Vertical Garden Design and in December with Brian Culliton of Culliton Quinn Landscape Architecture Workshop lecturing on Landscapes Designed Especially for Schools.
The WPGC's yearly series brings beginning gardeners to professional landscape designer to Wicker Park. The lectures are open to all and provide a great social setting to meet other landscape design enthusiasts. On top of that, the food is incredible and is provided by the lecture-goers.
WPGC's Doug Wood creates a fall and winter landscape design series and special workshops for people from all over Chicagoland. Since the lectures often sell out, be sure to register now. Reservations are required ($8). You may email or call in your reservation to 773.278.9077.
Other workshops and lectures are found on the Wicker Park Garden Club website. The series is sponsored by Wicker Park Garden Club in collaboration with Wicker Park Advisory Council and the Chicago Park District.
Photo courtesy of Doug Wood
Related:
Crime Stats By District
Columnists