Wicker Park Garden Club's Annual Plant Sale: Win-win for moms and gardens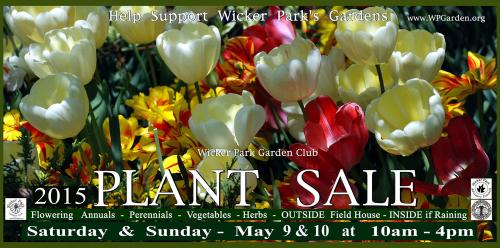 Wicker Park Garden Club's (WPGC) 2015 Annual Plant Sale on Mother's Day weekend, May 9 and 10 from 10 a.m. to 4 p.m., will feature vegetable, herbs, flowering annuals, hanging baskets, gift for mom, a special Kids Plant and Grow section, and the Bill Shores workshop, "How to grow vegetables even if you don't have a yard – Grow Vegetables in Containers." It is a win-win-win-win event for gift givers, moms, gardeners and Wicker Park. 
Located at in Wicker Park, 1425 N. Damen, there is no admission charge to attend the sale, but the workshop fee is $15. Workshop registration is a must. In case of rain, the sale will be held inside the field house. 
The WPGC plant sale team hand picks each plant that you will see at the sale. Their choices are based on what grows best in Chicago, what you tell them you like to purchase, what they like and what will make your garden a success and an asset to your community. At the sale, dedicated volunteers will help you select plants that will work best for the growing conditions that you have at your home. So ask them questions, obtain some design ideas and then go home to create a successful garden. 
When you purchase plants at the sale for your home, the money you spend helps the Wicker Park Garden Club to purchase and maintain the plants you see in the park. So when you see a beautiful blooming tree in the gardens or a group of breathtaking roses at the fountain, you can say, "I helped buy that plant and the organic nutrients that support its life." You did that by going to the plant sale. 
How does that work? The 10,000 square feet of Award Winning Gardens in Wicker Park are designed, funded and maintained by a group of dedicated gardeners from all over Chicagoland and not by the City of Chicago or by the Chicago Park District. Each week from March – December on Saturdays from 10 a.m.to 1 p.m., these volunteers tend the gardens in the park and then water them throughout the week. Also, they work to sustain them through large street festivals and work with and train the homeless to garden and to protect the gardens from after bar and festival drunks and vandals. 
Without your plant sale purchases, funds from donors, the work of the volunteers and the homeless, there would be no gardens in the Wicker Park – the Park. 
Details of the Sale:
No Admission Charge – Come Early, many plants are gone by 1 p.m.
Herbs, Vegetables, Flowering Annuals, Hanging Baskets and Perennials will be available for sale.
Held on Mother's Day - Perfect place to find the perfect gift for your mother.
A Favorite feature - Richard Tilley's popular Brugmansia will be sold while they last.
Volunteers will assist you with finding the plants that will work best in your gardens, containers or roof tops and help you create exciting designs that incorporate them.
Workshop – 11 a.m. to Noon - Growing Vegetables in Containers taught by Bill Shores, President Shores Garden Consulting, Inc.  "Everyone can grow vegetables, even if you only have a balcony." $15 Registration is required.
Bill Shores manages several Urban Gardens that produce specialty crops for High End Chicago Restaurants including Rick Bayless' restaurants: Topolobampo, Xoco, and Frontera Grill.
Children's Plant and Grow Area – No Charge Decorate a pot, fill it with soil, and plant some lettuce seeds to give to mom – watch it grow and then eat it.
High School Student Volunteers from BuildOn will work with Garden Club members to assist the children to create beautiful pots and plant seeds to take home to grow and then eat with their families.
Volunteer? Work 4 hours at the Plant Sale and get 10% Discount on your purchase, registeration required.  
Related:
Crime Stats By District
Columnists