Wicker Park Plant Sale: perfect for 2016 gardens and Mother's Day gifts
Hanging baskets, flowering annuals and perennials, herbs, vegetables and cacti are all at the Wicker Park Field House, 1425 N. Damen, ready for Wicker Park Garden Club's (WPGC) Annual Plant Sale, Saturday and Sunday, May 7 and 8, from 10 a.m. to 4 p.m.
This annual fund raiser that supports the Wicker Park gardens includes volunteer expert gardeners who will gladly help in plant selections for gardening novices and others.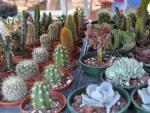 In addition there is a series of special offerings:
10 a.m. to 1 p.m. both days
Kids can decorate a pot for Mother's Day then fill the pot with soil and seeds
Safe gardening tip sheets from Medulla HealthCare Management Solutions
10:30 to 11:15 a.m. both days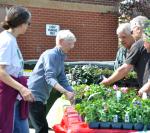 Demonstrations by the Goldfish Swim School Wicker Park
11:30 am to 12:15 p.m. Sat urday only
Maggie McKay's Nutrition Talks- Spice Things Up This Summer: Learn the health benefits & uses of different herbs and spices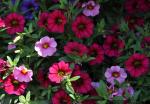 11:30 am to 12:15 p.m. Sunday only
Maggie Mckay's Play with Your Food! : Who Knew Eating Vegetables Could be So much fun? 
The Sale
Rain or shine the Sale will be open from 10 a.m. to 4 p.m. on the west side of the Field House or in the gym, if it is raining. 
How were these plants selected?
Volunteers spent Thursday traveling to Tinley Park then selecting plants at a grower named Ted's. Based on previous years' sales, the selection team determines the mix of plants. 
The Ted's truck rolls into the Park on Friday afternoon and the physical work begins. Plants on racks are rolled off the truck. Recording plants received against those on the order, volunteers then sort the flats by types and put them on tables. 
Once sorted, the tables are moved into the Field House for safe keeping overnight. 
Saturday the plants will be placed outside or in the gym, depending on the weather, ready for early shoppers. 
There is a definite advantage to being an early shopper. Early shoppers have the best selection of all those beautiful healthy plants!
*Plant selection photos courtesy of Jim Angrabright
Related:
Crime Stats By District
Columnists