Joys of gardening as the flakes fly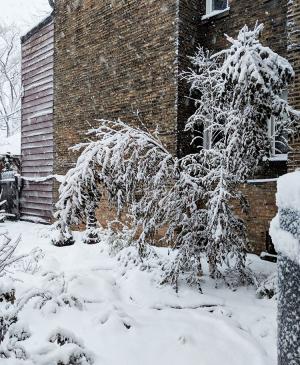 "I took this photo of one of my back yard river birches (betula nigra 'Dura Heat') this morning following the blizzard/ice storm.
Although all that weeping under the weight of the ice and snow sticking to it's leaves (which because of a warm and wet fall, never fell off) is beautifully romantic,
I'm wondering if they'll completely return to their usual erect selves once it warms up (the second photo is the same tree from early winter last year). After taking this pic I shook them off as best I could and although they straightened up a bit they're still hanging low. Like I said, it looks great now but this tree is nowhere near maturity. I can't imagine that trunk being twice as long and still sideways - I'd need a chainsaw to take out the garbage. 
Which reminds me of the time I made a January visit to a friend who's just outside of Tulsa.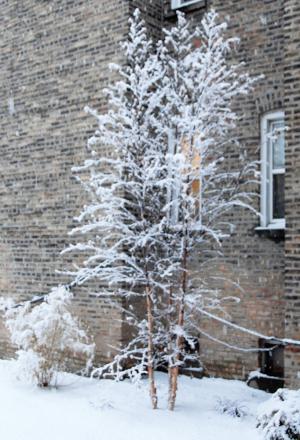 It was shortly after one of their ice storms (it's a regular occurrence down there, along with tornadoes and now 'fracking' earthquakes).
Big trees had major branch or sometimes even trunk snapping damage while many smaller trees and bushes ended up bent sideways and frozen in an easterly direction away from the wind. The bent plants had remained in that position even though I arrived a few weeks after the storm and the temps were in the 50s.
They looked like a snapshot of a bent tree in mid gust, not the real thing. BTW - this was my first experience with working a chainsaw. This is what happens when you plant anything besides grasses in a tall grass prairie and since they all do it, it explains why there's a whole aisle devoted to chainsaws at the local Tulsa Farm an' Fleet store (usually next to the aisle with all the gun safes). 
I can't wait for Friday's thaw. It'll determine if chainsaws are on my Xmas wish list."
Related:
Crime Stats By District
Columnists