Small Bar takes big steps toward going green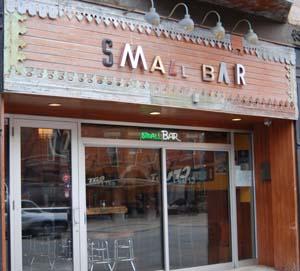 It is difficult to be green in a city as large as Chicago.  It is, in fact, difficult to think green in a city this size, when we are surrounded by the exhaust of countless cars, the growling of dumpster trucks on every corner and the fragments of garbage that blow through the alleyways from the unyielding winter wind.  And yet, take heart, Chicago, because there are some people out there who have figured out that being green in this city is about focusing on one green concept at a time.  Wicker Park's Small Bar is doing exactly that, and we can take notes from their efforts.     
Imagine the bottle of beer or wine you recently enjoyed.  Now imagine it, nestled amongst tens of thousands of bottles – a gleaming tower of glass and aluminum – from all the other beer and wine that was enjoyed on that one day. For Small Bar, the idea of that daily gleaming tower was equally as bothersome.  With an eclectic feel, and enough microbrews to ease the soul of beer lovers everywhere, Small Bar aims to please.  Small Bar also knows that with those microbrews, come a lot of recyclable waste, and they have finally found a company that can help them out, without breaking the bank. 
I met with Phil McFarland, one of the owners of Small Bar, with the hopes of discussing recycling.  He explained that after years of finding the prospect of recycling too expensive, he met a man from Independent Recycling Services at the Division Street fest who changed everything.  Not only did Independent provide a recycling service, but McFarland looked to save $50 a month in doing so.  With most bars in the city boasting two dumpsters that are emptied several times a week, their contribution to our landfills is astronomical.  With most of those establishments using 70% or more of their dumpsters for recyclables, the impact is tough to swallow.  However, the problem isn't easily solved.  Most of the recycling companies are not only asking for lots of money, but for the recyclables to be sorted before they are picked up.  Independent Recycling Services allows for them to be mixed, and at an affordable price. 
With 80% of Small Bar's waste containing recyclable materials, the only thing that ends up in the landfill is the food.  When I asked McFarland if he thought it was difficult for other bars to follow suit, he said, "If people knew that we are saving money, from a bottom line business point of view, its a good deal, with the added benefit of recycling."
      
There is a small downside, however, as McFarland points out, "If you get anything wrong in there, it is a fine of $150 dollars.  They do take everything mixed, as long as there isn't any food."  So how do they keep that straight?  In response to whether or not the adjustment towards recycling was difficult, he said, "There was definitely a week of adjustment.  But, it has not been all that difficult."  With a fail proof system of different colored trash bags scattered around the establishment, employees need only to look for blue, and the system is set in motion.
And if recycling wasn't enough for this young and hip businessman, Small Bar makes any other bar's attempt at being green look shameful.  Starting with the decor, Small Bar boasts tables made from repurposed doors and bowling lanes.  Their backbar is an antique, and their decor is a mix of found and reused objects, all adding to the vibe that brings patrons through their doors.  Beyond that, Small Bar's fryer oil is taken by a local company called Mahoney Environmental.  Mahoney Environmental, a company that has been in this business since 1953, takes the oil away and uses it for the manufacturing of soaps and alternative fuel.  They, in fact, represent one of the first true green enterprises in the area.
It doesn't stop there for Small Bar.  Their business car is a hybrid, and, with the help of McFarland's biochemist mother, they have been looking into using bio-diesel as an alternative for their transportation needs.  In addition, the more energy efficient tank less water heaters are used along with energy efficient light bulbs.  We shall also all soon see the use of the waste reducing Dyson hand dryers in their restrooms that use 90% less energy than regular hand dryers.
When asked if there was more on the horizon for Small Bar, McFarland didn't hesitate, "We are looking at things all the time.  There are two different technologies we are interested in, but we haven't been able to figure out if they actually work."  The first of these is a variable speed hood.  It doesn't sound all that crazy, but with a kitchen hood running even when business is slow, the energy expended along with the cold or hot air that is being sucked away, the addition of this machine could end up saving them money and energy.  The second of these two things is a system for their walk in cooler that utilizes the outside air to keep things cool.  When the temperature outside is already less than what it takes to cool, than it makes sense to stop expending energy to recreate the temperature inside. 
As if what they are already doing isn't enough, the addition of their new Small Bar on Fullerton provided an opportunity to push the limits on creating a green establishment.  They have added skylights to reduce energy during the day along with all of the aforementioned green ideas already set into place in their other establishments.  As a young and mindful addition to our neighborhood, I think we can all look forward to what we will see in the future for Small Bar.  Their step by step green thinking has already taken them this far.  I think we can also all hope that other establishments will follow suit in the years to come.  Perhaps all we need to think green is to see green actions in progress.
Photos courtesy of Hop-Cast.com and Small Bar
Related:
Crime Stats By District
Columnists