'NOBODY QUITS LIKE CHICAGOLAND' returns this week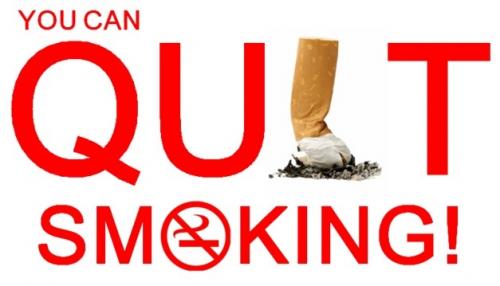 To participate in reducing the annual 480,000 death rate in the U.S. caused by cigarettes, the Chicago Department of Public Health (CDPH) and nearly 30 advocacy organizations across the city and suburbs today announced the third annual 'Nobody Quits Like Chicagoland' Smoking Cessation Awareness Week. 
With approximate 1,300 smoking related deaths per day, events and initiatives throughout the week will aim to drive public awareness of the importance of smoking cessation (or quitting). 
"I commend the efforts of the Chicagoland region for continuing to lead the nation in taking major steps to reduce tobacco use and raise awareness of the importance to quit smoking," said Mayor Rahm Emanuel. "While we've made a number of strides – including our move to change the legal age to purchase tobacco products – more can be done to help people quit smoking and educate others as to why they should never start." 
On July 1, 2016, the minimum age to purchase tobacco products in Chicago increased from 18 to 21. This law protects young people who are more vulnerable to nicotine addiction, and are also targeted by the tobacco industry with marketing and products designed to lure youth. Senate Bill 3011, currently in the Illinois legislature, proposes to extend that law to the rest of the state. 
Schedule of Events
KICK BUTTS AT WORK -- Tues., Nov. 15
8:30 a.m. to 4:30 p.m. American Lung Association Train the Trainer Smoking Cessation Class at the American Lung Association's offices, 55 W. Wacker Dr, Suite 800. Visit the website or 312.781.1100 
3 to 4 p.m. Free Webinar for Employers - Complying with the ACA and Best Practices in Worksite Smoking Cessation Programs, sponsored by Midwest Business Group on Health (Click here to Learn More and Register) 
FOCUS ON MENTAL HEALTH -- Wed., Nov. 16
11 a.m. to 1 p.m. Ask Advise Refer Provider Training at the Respiratory Health Association's offices, 1440 West Washington Blvd. Register online   
Noon to 1 p.m. Free Webinar for Providers w/ CME :  Population Health Management for Smoking Cessation in Low Income Smokers, Sponsored by the IL Academy of Family Physicians. Register online    
4 to 7 p.m. ALA Behavioral Health Tobacco Recovery Day Open House,.at Loretto Hospital, 645 South Central Avenue, Register online or call 312.940.7002 
10 a.m. to 3 p.m. hookah Awareness for Youth event at Oakton Community College-Skokie campus 
GREAT AMERICAN SMOKE OUT -- Thurs., Nov. 17 
7:30 to 9 a.m. Politics & Pastries - Advocacy Training at the American Cancer Society's offices, 225 N. Michigan Ave., Suite 1200.  
9 - 11 a.m. Latin American Consular Corps. Meeting, sponsored by LaRaza and the Chicago Hispanic Health Coalition
10 a.m. to 3 p.m. Hookah Awareness & Youth event at Oakton Community College-Des Plaines campus
TGIF -- Fri., Nov. 18
12:30 to 2 p.m. Smoking and the Chicago LGBT Community Gathering at Drew's on Halsted, 3201 N Halsted St. Register online 
6 to 8 p.m. TGIF Happy Hour – Community Gathering and Smoking Cessation Education Event at Affinity, 2850 S. Wabash
Those partnering in these efforts are:
Advocate Health Care
Aetna
American Cancer Society
American Heart Association
American Lung Association
Asian Health Coalition
Campaign for Tobacco-Free Kids
Chicago Hispanic Health Coalition
Chicago Housing Authority
Cook County Department of Public Health
DePaul University
Edward-Elmhurst Health
Illinois Academy of Family Physicians
Illinois Department of Public Health
Illinois Public Health Institute
Kane County Health Department
Lake County Health Department & Community Health Center
Loretto Hospital
Ann & Robert H. Lurie Children's Hospital of Chicago
Midwest Business Group on Health
National Kidney Foundation of Illinois
Northern Illinois Public Health Consortium
Northwestern Medicine
Oak Street Health
Orthodox Christian Coalition for Healthy Youth
Premier Pain and Spine
Presence Health
Respiratory Health Association
Rush University Cancer Center
Related:
Crime Stats By District
Columnists