Get Mental Health First Aid certificate training: More opportunities at PSMEMC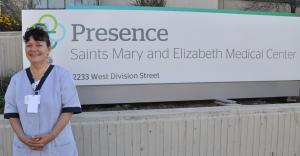 Mental Health First Aid (MHFA) certificate training gives more community members the opportunity to be prepared in recognizing and addressing mental health issues on the job, in the community and at home. Presence Saints Mary and Elizabeth Medical Center (PSMEMC) expands its training slots for two training days. One is July 28 (in English) and one on Aug. 11 in Spanish. 
Maxing out attendee slots at their first three sessions, the next training opportunities will be held in a larger spaces. On July 28, it will be on the St. Elizabeth campus, 1431 N. Claremont, Paisley Room Conference Room. On Aug. 11, it will be in the Nazareth Family Center, 1127 N. Oakley in the Auditorium.
Breakfast and lunch will be provided for each day. Those interested, free registration may be done online or by calling Celia Gonzalez at 312.770.3255 or Marissa Townes-Jenkins at 312-308-3227.
MHFA is a public education program that introduces participants to risk factors and warning signs of mental illnesses, builds understanding of their impact and overviews common supports. MHFA prepares participants to identify, intervene and connect. 
During the eight-hour, certificate training by Trilogy, Inc., participants will:
learn to identify potential risk factors and warning signs for mental health illnesses including anxiety, depression, substance use, bipolar disorder, schizophrenia and eating disorders
gain an understanding of how to offer initial help in a mental health crisis and connect persons to the appropriate professional, peer, social and self-help care
develop a 5-step action plan to support someone developing signs and symptoms of a mental illness or emotional crisis
connect to evidence-based resources available to help with mental health problems 
Mental Health services have been identified as the primary unmet community need and Mental Health First Aid has a strong evidence base of effectiveness. Based on a recent study, participants in Mental Health First Aid have greater confidence in their ability to help others, to advise people to seek professional help and to decrease stigmatized attitudes toward mental health issues.
Because of the demand for mental health services in our communities as well as the need for better engagement and education, PSMEMC is identifying and training large stakeholder groups such as faith leaders, elected officials, teachers, librarians, paramedics, community leaders and volunteers. 
By reaching these target audiences, individuals are being empowered to address the unmet health need in the community. With that empowerment PSMEMC looks forward to strengthening a community coalition to develop new treatment strategies, increase programmatic funding and improve access to community services and support that will impact those beyond the community's boundaries. 
PSMEMC was fortunate to receive funding for these MHFA training sessions to fulfill their goal. Other sessions are expected to be held on August 5, 11,18 and 25 at locations to be determined.
Related:
Crime Stats By District
Columnists