Presence Health intends to become part of larger health system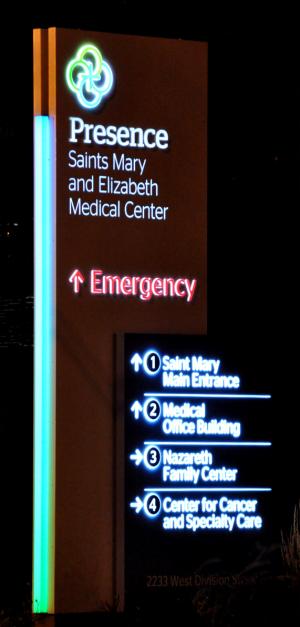 It was announced Tuesday, Aug. 22, that A non-binding letter of intent (LOI) has Presence Health joining Ascension, becoming part of AMITA Health. 
Important institutions in the development of Ukrainian Village and Wicker Park, Saint Mary of Nazareth hospital, established in 1894, and Saint Elizabeth hospital, established in in 1886, have been through a series of mergers since 2003. As part of a 2011 merger that created Presence Health, a leading Catholic health system in Illinois, they are scheduled to be part of Ascension, the nation's leading Catholic and non-profit health system. 
While Presence Health currently operates 12 hospitals, it is expected that two will be sold to Peoria based OSF Healthcare prior to the proposed merger. The two facilities are Presence Covenant Medicinal Center in Urbana and Presence United Samaritans Medical Center in Danville. 
All Presence Health facilities would become part of AMITA Health except Presence Life Connections, which would join Ascension Living, Ascension's senior care subsidiary. 
"The mission, values and history of Presence Health clearly align well with those of Ascension, as both systems are dedicated to caring for all, with special attention to persons living in poverty and those most vulnerable," said Anthony R. Tersigni, EdD, FACHE, President and Chief Executive Officer, Ascension. "We believe this will strengthen Catholic healthcare not only in the region but throughout the country as we are all dedicated to delivering personalized, compassionate care." 
"Joining Ascension and AMITA Health is a natural evolution for Presence Health, especially given the mutual respect between our systems and our shared mission, vision and values to provide quality, faith-based care," said Michael Englehart, President and Chief Executive Officer of Presence Health. "We look forward to working together to engage in this joint effort to expand, and continue to deliver, quality care for our patients and residents, as well as provide additional clinical opportunities and patient care resources to all our physicians and associates." 
This transaction requires both church and regulatory approval. With the large number of health care facility mergers has come scrutiny. The Federal Trade Commission's challenge of the Advocate Health Care and NorthShore University HealthSystem squelched that merger earlier in the year. Thus the 1,880 local Presence hospital jobs, not including positions with other local Presence Healthcare facilities will not be in question anytime soon. It was a year before the original Presence merger was finalized.
Background
As defined by the institutions:
AMITA Health is an integrated health system serving communities in western and northwestern suburban Chicago. It is a Joint Operating Company formed in February 2015 by Adventist Midwest Health, based in Hinsdale, and Alexian Brothers Health System, based in Arlington Heights, part of Ascension. AMITA Health is committed to delivering the most efficient, highest quality, faith-based care possible and respecting the faith traditions of all people. 
Presence Health is the largest Catholic health system in Illinois, serving over 4 million people, encompasses 12 hospitals and an extensive physician provider network. Presence Health Ministries serves as Church sponsor for Presence Health services and reports to Catholic leadership on its efforts. 
Ascension is a faith-based healthcare organization dedicated to transformation through innovation across the continuum of care. As the largest non-profit health system in the U.S. and the world's largest Catholic health system, Ascension is committed to delivering compassionate, personalized care to all, with special attention to persons living in poverty and those most vulnerable. In FY2016, Ascension provided more than $1.8 billion in care of persons living in poverty and other community benefit programs. Ascension includes approximately 150,000 associates and 36,000 aligned providers. Ascension's Healthcare Division operates 2,500 sites of care – including 141 hospitals and more than 30 senior living facilities – in 22 states and the District of Columbia, while its Solutions Division provides a variety of services and solutions including physician practice management, venture capital investing, investment management, biomedical engineering, clinical care management, information services, risk management, and contracting through Ascension's own group purchasing organization. 
Adventist Health System is a faith-based health care organization headquartered in Altamonte Springs, Florida. A national leader in quality, safety and patient satisfaction, Adventist Health System's more than 80,000 employees maintain a tradition of whole-person health by caring for the physical, emotional and spiritual needs of every patient. With 45 hospital campuses and more than 8,300 licensed beds in nine states, Adventist Health System facilities incorporate the latest technological advancements and clinical research to serve more than 4.7 million patients annually. The full continuum of integrated care also includes urgent care centers, home health and hospice agencies and skilled nursing facilities. Each Adventist Health System facility operates independently in delivering care and services to best meet the needs of the local communities they serve. While each entity is unique, all remain united in one mission of Extending the Healing Ministry of Christ.
Related:
Crime Stats By District
Columnists