Saints Mary and Elizabeth Medical Center rated as one of top hospitals in the country and Illinois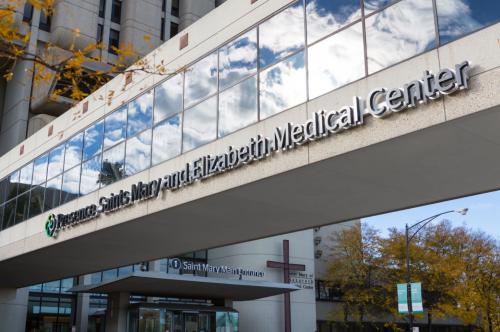 Once again* Saints Mary and Elizabeth Medical Center (formerly Presence Health now AMITA Health AHSMEMC), 2233 W. Division St., has garnered recognition as a Top Hospital in the United States by The Leapfrog Group, an independent hospital watchdog organization. 
Seven of 118 hospitals chosen coast to coast are in Illinois. Hospitals were broken into four hospital types: Children's (13), General (35), Teaching (53) and Rural (17). They were all chosen based on a methodology setup by Leapfrog.
With 591 beds, AHSMEMC was rated under the category of large teaching hospitals. The other six Illinois hospitals honored are Amita Health Resurrection Medical Center Chicago, Elmhurst Hospital, Northwestern Memorial Hospital, Northwestern Medicine Delnor Hospital in Geneva, OSF Holy Family Medical Center in Monmouth and University of Chicago Medical Center.
To qualify for the Top Hospitals distinction, hospitals must submit a Leapfrog Hospital Survey and achieve highest performance in its category. AHSMEMC received an "A" rating for quality and safety score for 11 consecutive reporting periods. The selection of Top Hospitals 2018 is based on surveys from nearly 1,900 hospitals. See the full list of institutions honored as 2018 Top Hospitals. 
"As teaching hospitals, both [AMITA] facilities actively promote the values of quality and patient safety in the training of physicians in a variety of fields," said Matt Brown, M.D., System Director of Medical Education for AMITA Health. "To be one of only a handful of health systems in the nation with multiple hospitals recognized as Top Teaching hospitals is an honor. Our resident physicians are actively involved in quality and safety reporting and serve on hospital committees dedicated to improving the clinical learning environment." 
*Saints Mary and Elizabeth Medical Center was first recognized in 2016.
Photo courtesy of AMITA Health Saints Mary and Elizabeth Medical Center
Related:
Crime Stats By District
Columnists