What can you do if a business isn't enforcing masking up?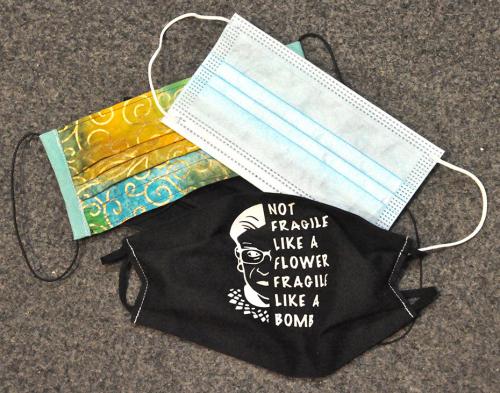 A resident was concern when she went shopping in a large chain grocery store where she frequently shops. The store employees were not enforcing the rule for customers to be wearing a mask. 
This is what she wrote to Chicago's Corona Virus task force:
"The _____ store at __________ is not enforcing the mask requirement for customers (see guideline #6 for retail: "Customers and employees required to wear facial coverings at all times".) 
"I was there yesterday and a number of customers were not wearing masks. 
"The issue was not being addressed by the store's employees who were absolutely aware of the presence of mask-less customers. 
"Can the City's Health Department please contact the store and ask them to enforce this guideline? 
"I am particularly concerned about all of the elderly customers who were in the store (and are particularly vulnerable).
"Thanks!" 
Just about 15 hours later, she received this very informative response: 
Thank you for contacting the Chicago Department of Public Health. We understand your concerns and are working hard to ensure the health and safety of all residents. 
If you see a business that is not in compliance with industry safety guidelines, please call 311 and city inspectors will follow up with the business.  
Be prepared with date and time of the problem occurring and the business name, location, and contact information. Keep in mind that they are experiencing high call volumes. 
You can also file a complaint online here, under COVID-19 Assistance -> Consumer and Employee Protection -> Business Complaints/Reopening Issue.  
To stay up-to-date about Coronavirus Disease 2019 (COVID-19) please use the following resources:
To speak directly to a representative, call 312.746.4835 or 311: Monday - Friday: 9:00 a.m. to 5:00 p.m. 
Sign up to receive the latest updates on our local COVID-19 response and the Chi COVID Coach app to receive text messages based on your symptoms and preregister for the vaccine. We'll share your feedback with the team handling the app. 
'THE DOC IS IN: ASK DR. ARWADY,' a live-stream hosted by Chicago Department of Public Health Commissioner Allison Arwady, M.D. on Twitter and Facebook Live. 
You can submit your questions for Dr. Arwady from wherever you are by Tweeting with the hashtag #AskDrArwady or by commenting on the livestreams to get answers in real time.  Link for the Mayor's Office Facebook Page and the Twitter page.
Related:
Crime Stats By District
Columnists