Books and other items ON SALE at the Polish Museum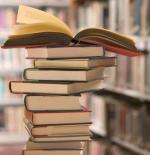 Items from the attic of the Polish Museum of American (PMA) and duplicate books are on sale Sept. 14 and 15 from 11 a.m. to 3 p.m., 984 N. Milwaukee Ave., 1st floor Social Hall. 
Books are in English and Polish on various Polish subjects as well as a variety of books that are non-Polish subjects. 
"The PMA Library cares greatly about all books, thus they need new homes," said Małgorzata Kot, PMA Librarian. 
The funds raised by the sale will help finance necessary improvements to the 98-year-old library and ensure its continued success. 
Books not sold during the weekend will be available for purchase at discounted prices in the PMA library through Sept. 30, during regular work hours. The library is open Mondays, Tuesdays and Saturdays from 10 a.m. to 4 p.m., and Wednesdays from 1 p.m. to 7 p.m. 
For more information please call 773.384.3352 ext. 101.
Related:
Crime Stats By District
Columnists