Bucktown-Wicker Park Library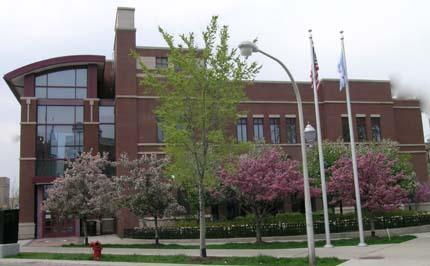 The Bucktown-Wicker Park Library located at 1701 N. Milwaukee Ave. 312.744.6022 opened on July 10, 2006, replacing both the West Town and Damen Avenue Branch libraries.  It is a two-story, 15,500 square feet full service branch that houses over $400,000 worth of books and materials.
Its many amenities include 23 computer stations, 10 for adults, 10 for children, and three express stations with free WiFi access.  There is also a photocopier and free parking for patrons.  While there is a large capacity meeting room that seats 120 people, its use by local organizations has been reduced due to shortened library hours.
Programs for children include a Summer Reading Program, story times, and story crafts.  Adult programs include book discussions, author appearances and other educational and cultural opportunities.  Check with the library for details as these programs have also been affected by the budget cuts.  A special Spanish Language Materials is the only collection located at this library.
In addition to these amenities, the building itself was constructed under LEED (Leadership in Energy and Environment Design) certification, which designates it as a "green building."
On the day of its opening, over 6,000 books were checked out and 730 library cards were issued.
Related:
Crime Stats By District
Columnists