Reminder: Libraries closed on Thanksgiving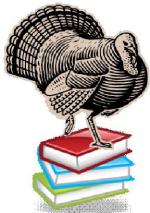 Be sure to return or take out your books at the library before Thanksgiving.
The Chicago Public Library sent a reminder that all their facilities will be closed on Thanksgiving, Thursday, Nov. 27.
That includes the Harold Washington Library Center, Woodson Regional and Sulzer Regional Libraries.
Related:
Crime Stats By District
Columnists