Past and present unite at Chicago Public Library's West Town Branch dedication
The past and present united at the dedication ceremonies for the new West Town Branch Library in part of the old Goldblatt Department Store building, turned City of Chicago facility, at 1625 W. Chicago Ave. Many city dignitaries, members of the Goldblatt family, library personnel as well as community residents were part of the celebration which ended with a ribbon cutting and reception.
Led by Mary A. Dempsey, Commissioner of the Chicago Public Library with a keynote speech by Mayor Richard M. Daley, the event included special recognition of the family who built the structure in the 1920s...the Goldblatts.
Dempsey opened the program by welcoming and thanking the Mayor for his support. "Mayor, you get it.  You understand our mission to promote and encourage life long learning in every form and for every age in free public libraries." She pointed out that no one in the country could match or surpass his twenty-one year record of adding fifty-four libraries by construction or renovation, taking the total to seventy-five, with five more under construction and construction started on several others. Then she praised him for supporting the library system after they were built.
Preceding Daley's address, Father John Adamcio of Holy Trinity Cathedral Orthodox Church in America gave the Invocation while Maritza Aguinaga, a 5th grader from Talcott Fine Arts & Museum Academy led all in the Pledge of Allegiance. Proco "Joe" Moreno, 1st Ward Alderman thanked all the people who helped make the facility possible.  He then introduced the Mayor who received a long round of applause.
Daley thanked many of the people who helped make the Library possible, including former 1st Ward Alderman who gave $500,000 in menu money to the project, as well as all staff people.  He gave special recognition to the Goldblatt family for giving of their time, effort and contributions in the community and city wide over the years.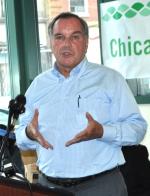 He then questioned, "What is the priority of government? Why is Chicago the only one with schools and libraries as priorities?"  He believes education is the key to success for individuals and the country and can not understand how other levels of government do not seem to have them as priorities.
"To me libraries were always essential in our family life," said the Mayor. "My father said to me and all my brothers and sisters, 'I'm going to give you a good name, a good education and good moral values.  You do what you want in life but give your children a good name, values and education and they will succeed in life.' That is the responsibility of all parents and becomes the responsibility of government because sometimes parents can't do it. We have to have an outreaching hand thru out the city to help them.   When parents say to me, 'Mayor I don't know what to do, I have nothing to do with my children.'  I have  one answer, take them to a library."
His point about the value of education including libraries was well illustrated by Alexis Hoard, a seventh grader from Mark Sheridan Academy, whose essay won the contest "What my library means to me."  Titled "Library, my second home," Alexis's essay began with, "As soon as my mom told me there was going to be a new library, my hands got sweaty and my heart started pumping. There was a big smile on my face. You see, the Library means a lot to me because it's like a second home. In my experience in my neighborhood library, I had a special relationship with the Librarians.  They cared for me and they helped me.  In fact they have taught me right from wrong; to respect others; and also have helped me with homework... numerous times. We also had some good laughs in our Library.
As a result of my going to the Library, I got better grades and stayed out of trouble. I used to be very dull and tired. I used to like to sleep a lot...still sort of do, but...the Library has shown me a more positive side of life..." (Essays are on display at the library, you may want to check them out.)
Other participants included Judy Martinez, Commissioner , Dept. of General Services and Andrea Telli, Central District Chief, Chicago Public Library. Father Philip Cyscon of Holy Innocents Catholic Church gave the Benediction.
The Ribbon Cutting Ceremony was followed by a reception which was brought about with the help of Ronda Locke.
Related:
Crime Stats By District
Columnists