Boo-Palooza in Wicker Park brought out 3,000 again!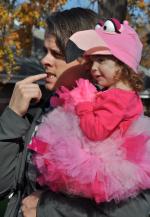 Boo-Palooza, the free Halloween celebration that brought 3,000 festive revelers together again this year in Wicker Park, had Mother Nature on its side. Thanks to hundreds of volunteers, kids, adults and dogs had a park full of performances, parades, educational opportunities and activities to enjoy.
This year's tables had more activities which attendees considered awesome. The game arcade manned by Wicker Park Committee volunteers and others was so popular the increased number of prizes were not enough.
More adults were part of the costume parade and the family costume entrants increased as well. Ghost Bingo seemed to delight enthusiasts of all ages.
Thanks to Christy Webber, the Pumpkin Patch had even more pumpkins this year which delighted an innumerable number of families.
The Magic Boat Puppet Show came back after a summer vacation and the Junior Women's League's Mad Hatters were as delightfully mad as always!
Collaboraction Theatre Company's Dome of Doom was a complete success for competitive and not so competitive dancers as enthusiastic observers cheered them on.
Cirque Experiences Wheel Jam was a huge hit for the numerous teen-age volunteers. Pritzker student dancers under the direction of Chicago Danztheatre Ensemble gave an excellent performance on the basketball court.
"The effort of 65 organizations was remarkable and something for all of us to remember," said Doug Wood who co-ordinated the massive event. "Working Together Works!"
Boo-Palooza is designed and presented by the Wicker Park Advisory Council, Wicker Park Garden Club, New City Church (formerly Mosaic Church), Urban Encounter, 400 volunteers and 65 organizations working in collaboration with the Chicago Park District.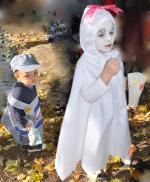 For Boo-Palooza 2015
All groups and individuals who are interested in being part of planning and participating in Boo-Palooza 2015 are invited to the Planning Meeting on Jan. 20, 2015, at 7 p.m. in the Wicker Park Field House, 1425 N. Damen Ave.
Related:
Crime Stats By District
Columnists