Earth Day comes early to Wicker Park April 7: Mulch and Dog Park Cleanup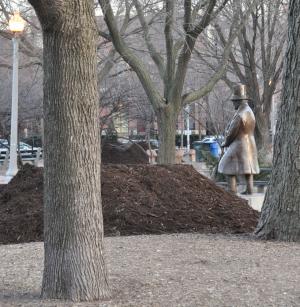 Mulching and dog park cleanup at Wicker Park, 1425 N. Damen, this Sat., Apr. 7, from 9 a.m. to 1 p.m.
This is an opportunity for all the lovers and users of Wicker Park to show their appreciation.
Volunteers must sign up in advance to make sure there will be equipment waiting for you. 
Be sure to wear hard toe shoes (NO SANDALS) and clothes you are ok about getting dirty! And remember gloves. 
Tasks are:
Mulch all the trees in the Park
Clean the Dog Park
Rake the Lawn 
Tools will be provided: Forks, rakes, shovel, wheel barrels and brooms.
All children under 12 must be supervised by and work with their parents at all times. 
Check in and sign park waivers when you arrive or download, sign and bring waiver to the Park on Saturday. Click here for documents
Dog Park Users
Renovation of the Wicker Park Dog Park, a Wicker Park Advisory Council and community initiative in partnership, with the Chicago Park District, is underway.
Everyone interested in that portion of Wicker Park at Evergreen and Schiller is asked to participate in a survey online.
Related:
Crime Stats By District
Columnists