Most Earth Day participants ever: Friends of the Parks
Standing at the Humboldt Park Boat House on Saturday, Friends of the Parks' Executive Director Juanita Irizarry declares their 2017 Earth Day efforts reaped the most success ever. 
"We have over 5,000 volunteers in 135 Chicago parks and forest preserves participating today," she said as she was potting up an oak tree to be given away. 
"People are in itty bitty parks and big parks today cleaning up and readying the spaces for summer activities. It is also Green and Clean Day in the City so perhaps that added to the turnout, but the important thing is that we are cleaning up the parks and having neighbors being involved." 
In the Chicago Park District's (CPD) Central Region, Humboldt Park at 1400 N. Sacramento Ave. is one of the City's largest with 219-acre.  
Many participants started at 9 a.m., spreading across the Park with bags and rakes. Live music started in the parking lot around noon as organizations at tables prepared to talk to a growing crowd. Groups informed attendees about other ways to be involved in helping in the community or just having fun.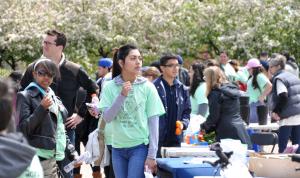 People of all ages participated in the event and were thanked with food that went beyond the normal hot dogs on buns. In addition, many students earned community service hours by being part of the cleanup teams.  
Alderman Roberto Maldonado, 26th Ward, greeted the crowd acknowledging how many years ago he became involved in learning about and appreciating Mother Earth. "Now our children seem to have an innate sense of caring for and paying tribute to her [Mother Earth]." 
He once again thanked those who planted a tree last year honoring his wife, Nancy, who had passed away. "My children and mother-in-law visited the tree a little while ago. We are so happy to see it growing and blossoming."
Related:
Crime Stats By District
Columnists