Perfect night for a bonfire: Smith Park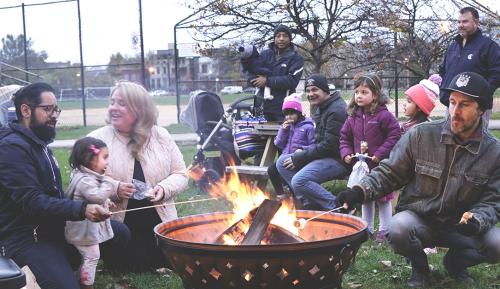 Many neighbors gathered for the Smith Park Bonfire event, Sat., Nov. 3, 2526 W Grand Ave. on a perfect night for a fall celebration. 
The chill of the fall air reminded all that playing baseball and swimming laps will not be possible in the Park for several months. But the flame licking, wood snapping, crackling bonfire brought smiles to all during the first bonfire of the season at Smith. 
Roasted marshmallows added the right amount of heat to melt the chocolate for the tasty consumed by children of all ages. 
Music added to the celebratory atmosphere, produced by the Smith Park Advisory Council, as an increasing number of area neighbors joined the event. 
The event was produced by the Smith Park Advisory Council: David Ramos, President; Nani Almendarez, Vice President; Ellen Ernst, Secretary; and Dave Hunt, Treasurer.
Related:
Crime Stats By District
Columnists