Take a walk with your neighbors: 3rd Annual Block Party for The 606
From 9 a.m. to 10 p.m. Saturday, June 3, fun events, music and activities will be underway from one end of The 606 to the other during the 3rd Annual 606 Block Party: A Walk with Neighbors. Everyone is invited to participate in the free event.
In celebration of the community spirit of The 606, the festivities will include live music on two stages, a community-centered street festival with 25 community organizations along Humboldt Boulevard, featuring hands-on fun for all ages; activities and music in the parks along the trail; and two major processions.
Performers include Jonathan Langford and the Four Lost Souls, Cumbanchero: A Tribute to Rafael Hernandez, ¡ ESSO! Afrojam Funkbeat and others. Revolution Brewing will have beer and there will be a bicycle rodeo, poetry readings, crafts, and more.
Activities begin at 10 a.m. and the Trust for Public Lands encourages neighbors to attend in groups as block clubs, soccer teams, walking buddies, community organizations, or others. "Wear your colors! Make some noise," they say.
Register your group with them and then check your group in at The Trust for Public Land's information tent for a special treat.
Humboldt Boulevard between Wabansia and Cortland begins at 10 a.m.
Wabansia Stage will have music presented in collaboration with Chicago Summerdance and the Department of Cultural Affairs and Special Events:
10:00  Latin Fitness Dance
11:30 Kaiso Steel
12:30  Volo Bog Trotters (contra)
2:30    Sons of Susan (swing)
5:30    Mr. Mojo and the Bayou Gypsies (zydeco)
7:15   Cumbanchero: A Big Band Tribute to Rafael Hernandez (salsa, cumbia)
The Cortland Stage music will be presented by Rosa's Lounge, The Hideout, and Segundo Ruiz Belvis Cultural Center:
10:15 Capoeira with Quilombo Cultural Center
11:30 Melody Angel (blues)
1:15  Girls of the Golden West (western swing)
3:00  Michael Wheeler Band with special guest Indiara Sfair  (blues)
5:15  ¡ESSO! Afrojam Funkbeat (Afro-Latin)
7:00  Jon Langford and the Four Lost Souls (punk/folk) 
From 11 a.m. to 4 p.m., the community booths, which will be open along the boulevard, will provide hands-on activities including live graffiti painting, a bike corral, tinker toy towers and a whimsical obstacle course. 
Also between 11 a.m. and 4 p.m., parks along the Bloomingdale Trail will offer other experiences:
Monticello—Sun gazing with astronomer Joe Guzman
Julia de Burgos Park—Chicago Park District Kidsmobile—games and crafts
At Milwaukee/Leavitt in Park 567, music will be presented by Ipsento

1 p.m. Leo Fron
2 p.m. Diving Bell
3 p.m. Tapestry
4 p.m. Tyler Sjostrom

Churchill Field Park—Lawn games presented by Players Sport & Social
Walsh Park—Chicago Park District Family Recess 
Everyone is encouraged to join the Grand Promenade on Humboldt Boulevard between 4 and 5:30 p.m. when Segundo Ruiz Belvis Cultural Center and Puerto Rico's Y No Habia Luz will headline a musical spectacle and carnival-style comparsa. 
Illumination stations will be open from 6:30 to 8:30 p.m. for participants to make an illuminated UFO, light house, boat or lantern to carry in the illuminated procession that will close the festivities. The Illuminated Procession starts at 8:30 p.m. with Opera-Matic, Y No Habia Luz, Segundo Ruiz Belvis Cultural Center and West Town Bikes as everyone creates an amazing sight as a stream of light walks along the Bloomingdale Trail.
Final procession last year included a walking "backdrop" created with silhouette puppets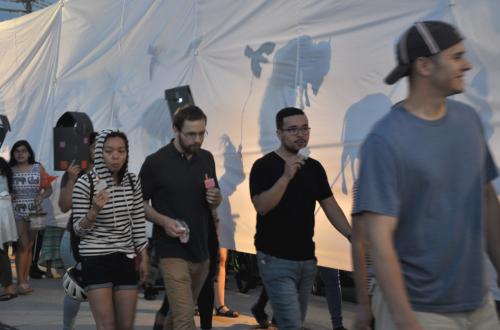 Photo source: Last year party photos by Elaine Coorens
Related:
Crime Stats By District
Columnists