WickerICE brings more than joy and accomplishment to Wicker Park's 4.3 acres
As the ice was beginning to soften last Saturday morning, the shire joy and appreciation of skaters, parents and organizers and the sense of "well done" was hovering over the volunteer funded and maintained ice rink…WickerICE, 1425 N. Damen Ave., a project of the Wicker Park Advisory Council. 
Kids were on the ice with instructors, some whom are also parents. Non-skaters seemed to be soaking in the joy of it all. Two fathers, Edward Jackson and Josh Graves, from Ukrainian Village said that they had their daughters at the rink almost every weekend for hockey. And, they are not sure what is going to fill that time in the next few weeks.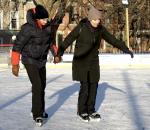 "We had a great time this year," says Wicker Park Advisory Council's Doug Wood who manages the project. "We've had tons of volunteers and a lot of people are getting involved in activities during the rest of the year...some with fund raising for WickerICE, others for mulch day and/or the plant sale. It is great that people are moving from one project to another." 
Though the weather delayed the rink's opening to Martin Luther King Day (MLK Day) on Jan. 21, the number of skating days were consistently possible for 52 open skate sessions in addition to 26 children's skate lessons and Stick & Puck sessions for different ages. 
In the third year, children's class instructors for five to twelve year olds, Scott Hooper and AmySue Mertens, said that this year was the biggest in attendance. "We had 20 kids in each of the seven classes, except for MLK Day when there were 50," said Hooper. "Having 75 children from 62 families is really great to see." The families were from Bucktown, East Village, Humboldt Park, Ukrainian Village, West Town and Wicker Park. 
Interest was so great in teaching children that a hockey coach, Ben Kohn, offered to coach children in Stick & Puck. He got two sessions in before the ice started melting. 
Drawing from 44 different zip codes including 20 people from the suburbs, the Stick & Puck times on the ice caused close to 250 people to sign safety waivers. The breakdown by age was: 
| | |
| --- | --- |
| Age | Count |
| 6yrs-12 | 10 |
| 13yrs-19 |  9 |
| 20yrs-29 |  134 |
| 30yrs-39 |  80 |
| 40yrs-49 |  7 |
| 50yrs-59 |  6 |
Some of the people who made the first skate possible four years ago such as Matt Eisler and Amy Pilewski Culliton were at this season's last skate too.
Pictures say it all about the success of WickerICE 2018-19, in the little Park that can in the Wicker Park neighborhood. The reason it happened was because of a large number of devoted volunteers, the sponsors, the people who wanted to experience the joy of gliding along the ice and the Chicago Park District.
Related:
Crime Stats By District
Columnists